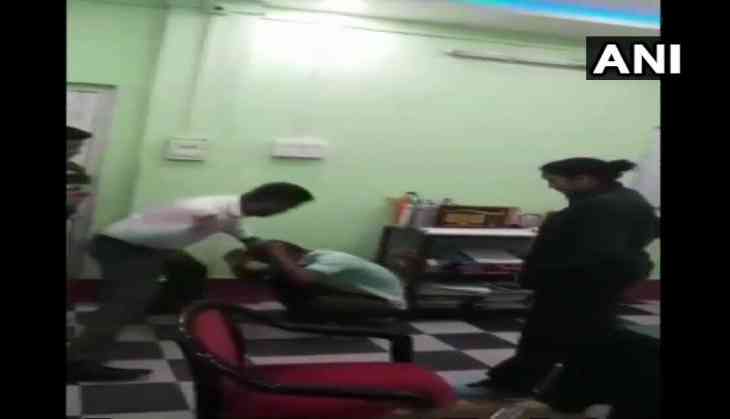 A district magistrate and his wife in West Bengal have assaulted a man in the jail, who had allegedly sent lewd messages to the wife of DM.
The video purportedly shows that the DM Nikhil Nirmal and his wife are beating a man inside the jail, after slapping him on Saturday night.
In the video, DM Nirmal is heard saying, "No one will speak against me in my district." He is also heard threatening the man, "If I can put you inside a police station by half an hour, I can kill you at your home."
In between this, the wife of DM has claimed that they had hit the man as he had sent abusive messages to her and posted on Facebook that "If you want to remove him, remove him. But do not disturb a family man. Yes, we have slapped and kicked the man. Any other person would have killed such men. My husband told me during marriage that he will take care of me .. protect me. And he did. I am proud of him."
West Bengal: District Magistrate of Alipurduar, Nikhil Nirmal caught on camera thrashing a youth in a police station for allegedly sending lewd messages to his wife on Facebook. The youth was later arrested. (6.1.19) pic.twitter.com/Hu6UlPO4OQ

— ANI (@ANI) January 7, 2019
The Indian Express has reported that Association for the Protection of Democratic Rights (APDR), an NGO has stated that "We are drafting a complaint which will be sent to NHRC. Since the man is an IAS officer, we are lodging a complaint with NHRC. We will also lodge a complaint against officers of the police station who stood there and watched," an official of Ranjit Sur.
The national secretary Rahul Sinha of the BJP said over the issue that "The DM should be arrested immediately. He is the head of the administration in the district. If he violates the law and beats up a man in a police station, what will we expect from junior officers."
Also read: Supreme Court issues notice to Anil Ambani-led RCom after Ericsson demanded his arrest in Rs 550 crore