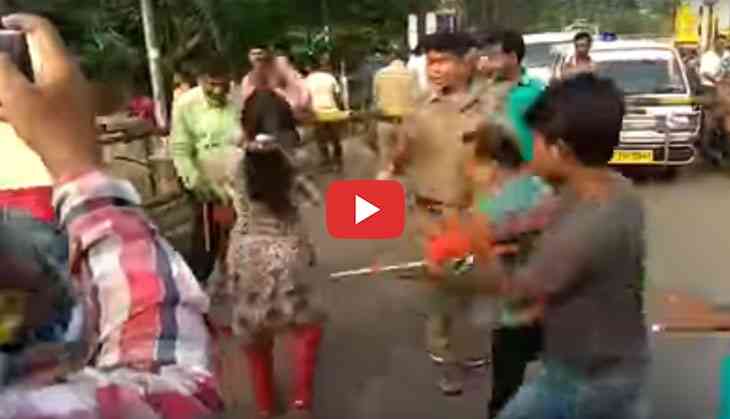 The BJP had called the statewide bandh in West Bengal on Wednesday over the death of the two students in Islampur during the clash with Police. In response, the state government has deployed 4,000 police personnel on the streets and various measures have been taken to control the situation.
During the protest, a shocking incident came to light that TMC leader from Barsat, near Kolkata, has kicked a woman BJP supporter who has come to participate in the protest. The video of the incident is also getting viral everywhere. In the video, it can be seen that how the leaders have kicked the woman brutally and also beaten her with lathi at her.
The woman was protesting against the Islampur death and also supporting the band. All of sudden, the TMC workers were chasing the BJP supporters.
See video:
Police also did a lathi-charge on the supporters of BJP in Neamatpur of Asansol for blocking the roads and burning tyres on GT road. However, Police have arrested many BJP supporters for violating the laws. The party's procession moved all across the Neamatpur Bazar area.
Barasat: Clashes broke out between BJP and TMC workers when the BJP workers were trying to obstruct movement of trains. BJP has called for a statewide bandh today over the death of two students in a clash with police in North Dinajpur. #WestBengal pic.twitter.com/mSq37bOlLa

— ANI (@ANI) September 26, 2018
On the other hand, the BJP leader Amit Gorai said that they were doing the silent protest but police did lathi-charge on the party supporters and also arrested them. The next big rally is now planned at 10.45 am by Dilip Ghosh at Rasbehari.