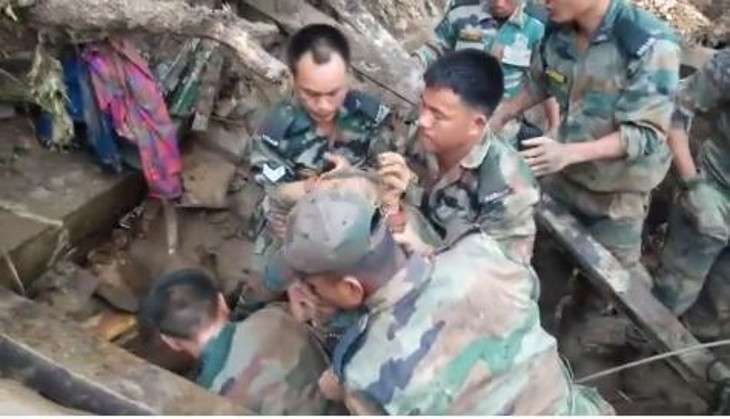 A woman was pulled out alive by Indian Army jawans in Pithorgarh district on 2 July, two days after she was trapped under the debris in landslide-hit Uttarakhand.
Soldiers of the Assam Rifles regiment of the Indian Army pulled out the woman who was stuck under the debris of her house for over two days during the relief and rescue operations in Uttarakhand.
"The lady was stuck in the debris of her home in Bastadi village in Pithoragarh. After a long rescue operation, Army jawans pulled her out alive safely. She was taken to the hospital for treatment," The Times of India quoted RS Rana, district management officer, Pithoragarh as saying.
The video of the rescue has gone viral.
Relief and rescue operations are still on in the disaster affected villages of Pithoragarh in Uttarakhand, where NDRF, SDRF, ITBP, Army and the state police are working round the clock looking for any traces of life trapped under the debris.
So far, 15 bodies have been recovered from the debris, while 12 persons are still missing.
The death toll in Pithoragarh and Chamoli has gone up to 18.
-- With agency inputs