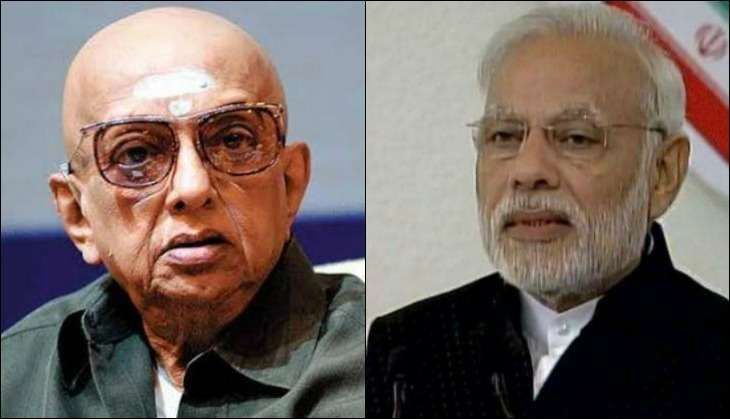 Founder and Editor of Thuglak magazine, Cho Ramaswamy passed away on 7 December at Apollo Hospital in Chennai.
A political analyst and a satirical person, Ramaswamy had earlier come down heavily on the ruling government in the state as well as Centre through his magazine.
Also Read: Thuglak editor Cho Ramaswamy passes away in Chennai
In memory of this great political analyst, Prime Minister Narendra Modi tweeted:
"Cho Ramaswamy was a multidimensional personality, towering intellectual, great nationalist & fearless voice who was respected and admired."
The feisty Cho Ramaswamy introduces me as the 'Merchant of Death.' Do watch this memorable interaction. https://t.co/2FsF64sVvH

— Narendra Modi (@narendramodi) December 7, 2016
I returned the favour, but don't think I matched Cho's eloquence. Hear what I said about him. https://t.co/wPxYLc1fTb

— Narendra Modi (@narendramodi) December 7, 2016
PM Modi added, "Above all, Cho Ramaswamy was a dear friend. I have been to his annual readers meeting which were an unprecedented editor-reader interface. Cho Ramaswamy was insightful, frank & brilliant. Pained by his demise. Condolences to his family & countless readers of Thuglak."
Ramaswamy was also a playwright and stage actor. He directed numerous films and was also a screenplay writer.
The 82-year-old editor and former BJP Rajya Sabha member is survived by his wife, a son and daughter.