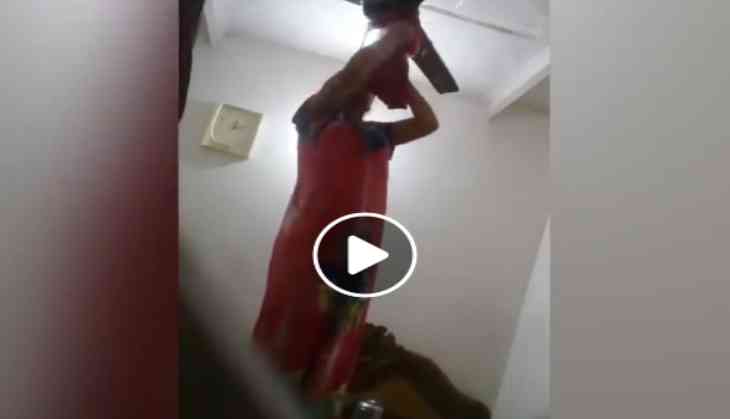 In the Mathura district of Uttar Pradesh, A woman, who was harassed daily for dowry hanged herself to death. What shocking here is that her husband instead of preventing her from committing suicide was saying let her die and filming the whole suicide act. According to the police, this incident took place on Thursday in Buddha Vihar Colony of Thana Highway area. After getting the information, the relatives of the young woman reached her house on the same night.
Police have filed a case of dowry, harassment and non-consensual murder against the in-laws and arrested her husband Raj Kapoor and mother-in-law Vimala and sent them to jail. Two days later, a 12-minute 14-second video viral on social media on Saturday evening put the most heartbreaking side of the event in front.
When the daughter-in-law was committing suicide, at that time her husband was making a video and mother-in-law and sister-in-law was standing outside the room near a window and pleased her not to commit suicide. In the video, the victim's husband can be heard saying, 'marran de' (Let her die) in his language.
n the case, the police also believe that the said video is not made by any outside person, but the relatives themselves have made it. There is the voice of mother-in-law and sister-in-law, who seem to be making mouth-fighting attempts, and her husband is indulging in unimpressive video clips while recording it on his cell phone. SP City Shravan Kumar said, "After the video has arrived, the police has started investigating this matter with a fresh start, since this video has been proven directly in the first place that Geeta's in-laws are not protecting her, were happy to see her die '
SP city Shravan said, "According to the relatives, the husband of Gita, Raj Kapoor got married on April 22, 2015. After a few days, her in-laws started harassing her on daily demanding for dowry and car. He often taunts her for bringing less dowry and also kills many times. '
Also read: Ranchi: Shocking! 7 people of the same family committed suicide for a shocking reason; another Burari death case in-line?