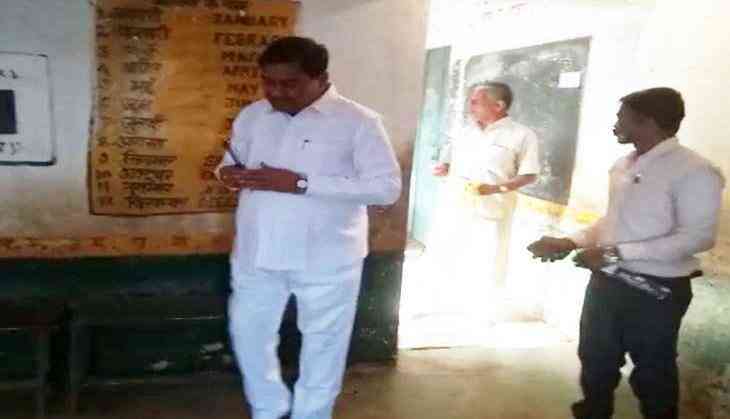 As assembly elections have just arrived political parties and its candidates are leaving no stones unturned to get votes in their favour. Well, but can you imagine of candidate worshipping EVM and performing 'Parikrama?'
Yes, Chhattisgarh's Bhartiya Janta Party (BJP) candidate and state minister Dayaladas Baghel performed rituals at a polling booth where he had to cast vote. Not only this, but he also performed Puja of Electronic Voting Machine (EVM) and lighted incense sticks in front of it. A video of his whole worship session later went viral on social media that landed him in a soup of controversy.
Taking the cognisance over the matter Election Commission has issued a notice to Raman Singh government's cooperative and tourism minister Dayaladas Baghel in connection with worshipping in the polling booth. They have been asked them to respond by Thursday.
Baghel is the BJP candidate of Navagadh Assembly, he worshipped EVM, burnt incense sticks in the polling booth of Kurra before voting in the second phase on 20th November. Kura is the hometown of Baghel.
On a query, Subrat Sahoo in a press conference said, "The complaint has been received where the BJP candidate Dayaldas Baghel had conducted religious rituals in the polling booth; the concerned Returning Officer has been asked to issue a notice," he informed.
As per the viral video, BJP candidate first lighted the incense stick and then performed 'Parikrama' of the booth by moving around it. After that, he touched the cover put up on the EVM and worshipped it.
He then went to gate the of the polling booth and broke the coconut and only thereafter that he went to cast his vote. Baghel's supporters were also present in the polling booth during the 'puja'.
Also read: Shocking! Killer of 3-year-old girl, confesses to torture, rape and kill brutally 8 more girls; says 'used to break their limbs first'