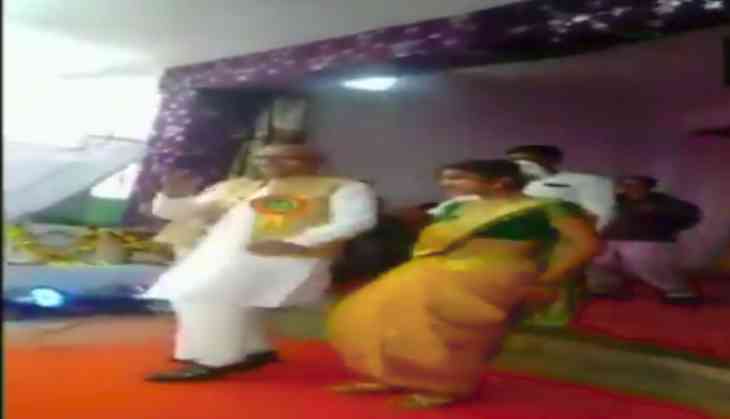 The NCP MP from Maharashtra, Gondiya Madhuar Kukade shooked his legs with school students. During a school program, accompanied by schoolgirls, Kukade started dancing on Simmba movie hit song 'Aankh Mare....' MP Madhukar Kukde, who was a chief guest in the 'cultural event' of a school in Bhandara district of Maharashtra, got on the stage and started dancing with the school girls.
After watching the MP shaking legs, many other students in the campus started dancing with the rest of the guests. This dance video has gone viral on social media.
#WATCH NCP MP from Bhandara-Gondiya Madhukar Kukade dances with students during a school function in Bhandara. #Maharashtra (5.1.19) pic.twitter.com/tCJJB9igxr

— ANI (@ANI) January 7, 2019
In the video, it can be clearly seen how during this cultural event, MP Madhukar Kukade is dancing on the songs 'Aankh Maree ..' along with the school kids. First, he stood in his own place and gradually started shaking legs. Later, he went ahead with the girls and started shaking legs.
Not only MP Kukade, but other people present in the event also started encouraging MPs to dance and began hooting athim. People at the event took full enjoyment of his dance and applauded his performance. Not only this, during the dance, MP is also asked others to join.
'Aankh Mare...' is a hit song of Rohit Shetty film, starring Ranveer Singh and Sara Ali Khan.
Also read: Lok Sabha 2019: Amit Shah warns Maharastra ally says, 'if no tie-up, BJP will defeat ex-allies'; Shiv Sena accepts challenge