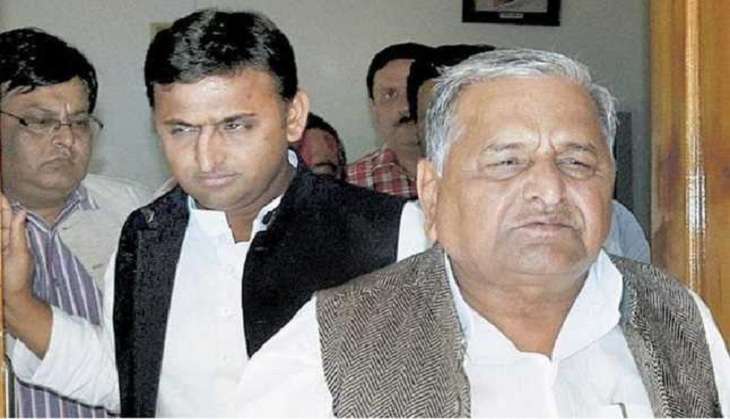 With the Election Commission all set to begin its first hearing on the dispute in the Samajwadi Party with regard to the symbol ' cycle', party supremo Mulayam Singh Yadav and his son and Uttar Pradesh Chief MinisterAkhilesh Yadav on Friday arrived at the office of the poll body in New Delhi to put forth their stands.
The 76-year-old, who had earlier this week attempted to bring on board his son and Uttar Pradesh Chief Minister Akhilesh Yadav, is accompanied by his brother Shivpal Yadav.
The poll panel announced the date of hearing on Tuesday, a day after both factions - led by Mulayam and Akhilesh - submitted their rebuttal to each other's claims over control of the party.
Earlier on Monday, Mulayam met Chief Election Commissioner Nasim Zaidi and Election Commissioners O. P. Rawat and A. K. Joti, during which he has reportedly reiterated that Ram Gopal Yadav stands expelled from the party and he continues to remain the Samajwadi Party president.
Mulayam, however, later extended an olive branch to his son and said that Akhilesh would become the Chief Minister after the elections.
Earlier, Ram Gopal submitted a dossier containing signed affidavits of support for the Akhilesh faction from party delegates, MPs, MLAs and MLCs. The Akhilesh camp urged the poll body to decide on the matter at the earliest.
Nominations for the first phase of elections in Uttar Pradesh start in four days, but the Samajwadi Party is yet to finalise candidates, with both Mulayam and Akhilesh releasing separate lists.
Elections will be held in seven phases in Uttar Pradesh starting 11 February, and nominations for the first phase begin on 17 January. Votes will be counted on 11 March.
-ANI