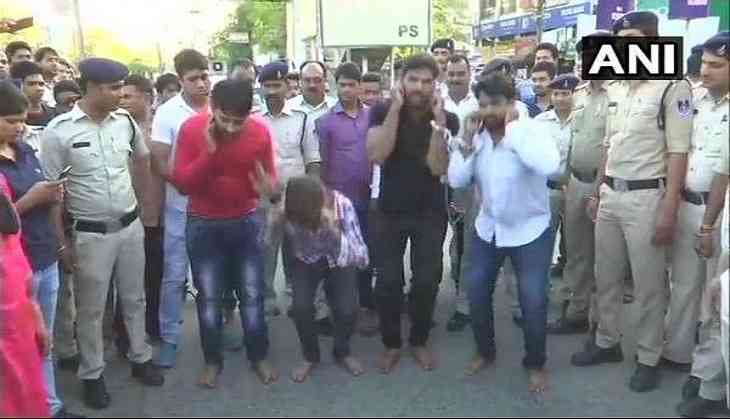 Sexual harassment cases have been increasing in the country day-by-day. In result of this many victims have lost their lives and many of them are waiting for the justice. Many of them remain silent only to protect themselves from the society. However, the condition of women is getting worse in today's scenario.
Recently, a shocking incident has come to light from Bhopal where four men were arrested for allegedly abducting and raping a 20-year-old college student. Later, what Police had done with them was remarkable. A video of them has been doing rounds on the internet where the Police can be seen making them parade around the city and people shaming them publicly.
All the four accused were taken from the busy streets where women slapped and thrashed them. All the four rapists were made to do sit-ups.
As per the reports, the victim was abducted from Maharana Pratap Nagar in Bhopal by the accused and they were taken her to a house where the other accused arrived for doing the crime.
According to the Superintendent of Police, all of the four accused of the crime have been arrested now. One of the accused was victim's former boyfriend, who tried to contact her and asked to come to friend's house to solve the issues. Therefore, he took her there and later, called his friends to the place, where she was raped.
Watch the video:
After saving herself from their clutches, the victim filed a complaint against them at Police Station on Sunday morning.
Also read: Viral Video: Bulandshahr man beats his wife infront of Panchayat mercilessly; what happened next will shock you