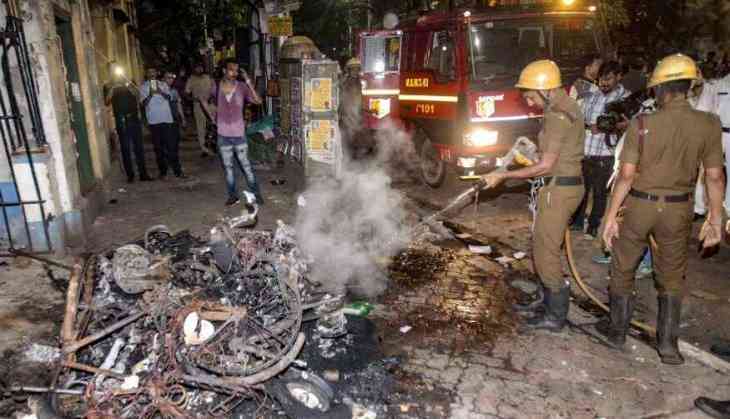 Bharatiya Janata Party chief Amit Shah's first roadshow in West Bengal's Kolkata witnessed massive violence, arson and a police lathi-charge on Tuesday. The clash broke out between ABVP and Trinamool Congress Chhatra Parishad (TMCP) supporters. The students were holding "Amit Shah Go Back" posters at College Street.
Shah escaped the violence unhurt and was made to cut short the roadshow. Shah termed the violence an attempt to "strangulate democracy", attack TMC.
"There was an attempt by TMC hooligans to attack me. Mamata Banerjee (West Bengal chief minister) tried to provoke violence. But I am safe," Shah said, adding that state police remained a mute spectator during the clashes.
As clash broke out, ABVP supporters barged into the nearby Vidyasagar College at Shankar Ghose Lane and damaged the college property.
Vidyasagar College principal Gautam Kundu told News18, "I condemn this incident. How can someone enter a college and damage its property? This is alarming as I have never witnessed such an incident in recent years. Not only did they break the furniture but they also broke an antique statue of Ishwar Chandra Vidyasagar. We will lodge a complaint with the police against the BJP attackers."
West Bengal CM Mamata Banerjee said she would not spare the BJP goons. "Today, during the roadshow of Amit Shah, a section of BJP goons set Vidyasagar College on fire. They damaged the statue of Ishwar Vidyasagar Sagar. It's a shameful incident, which never before happened in West Bengal," she said.
Senior TMC leader Derek O'Brien tweeted: "Desperate BJP goons from outside Bengal smash a statue of Ishwar Chandra Vidyasagar inside the college. Violent mob of BJP 'outsiders' in presence of Pukeworthy Shah. How little you know about Bengal, its rich history, its culture. Bengal will never forgive for what you did today."
After the violence, BJP moves to election commission seeking immediate ban on TMC chief Mamata Banerjee from poll campaign.
"She holds a constitutional post but has been using unconstitutional comments, asking her party workers to take revenge and indulge in violence. She is complicit. She should be immediately barred from campaigning," Mukhtar Abbas Naqvi told reporters after the BJP delegation, including Union ministers Nirmala Sitharaman met the EC.
Also read: Shatrughan Sinha: When I joined Congress, Advaniji was in tears but..