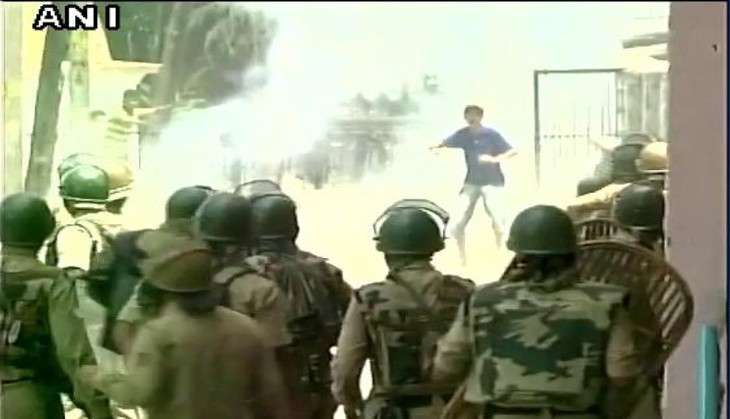 Violence broke out at several places in Kashmir on 9 July as mobs attacked police posts, security personnel and the BJP office in Kulgam to protest the death of Hizbul Mujhaideen poster boy Burhan Wani in an encounter.
11 people, including three policemen, have been injured in the clashes. Groups of youth pelted stones at police posts and police stations at Bandipora, Qazigund and Larnoo in Anantnag district, a police official said.
Violent protests were also held in Mir Bazaar and Damhaal Hanjipora in Kulgam district and Warpora in Sopore township of Baramulla district.
The police picket guarding the minority community in Vessu area of south Kashmir was also attacked, the official said.
He said a mob also attacked the BJP office in Nilo-Bugam area of Kulgam district and damaged the building.
Stone pelting incidents were also reported from Sheeri, Kreeri, Delina, Pattan and Palhalan areas of north Kashmir's Baramulla district, the official said, adding Barsoo and Shariefabad in Awantipora area of south Kashmir also saw violent protests.
He said, "So far 11 people, including three policemen, have received injuries during the clashes which were going on when reports last came in."
Minor protests were also reported from several parts of the city, he added.
Curfew-like restrictions were imposed in parts of Kashmir, including Srinagar city, and Amarnath yatra suspended as authorities had apprehended protests in the Valley, where tension prevailed following the killing of Wani yesterday.
Mobile internet across Kashmir has been suspended while mobile telephony services have also been restricted in south Kashmir.
Top separatists leaders who had called for a strike were put under house arrest as a precautionary measure.
--PTI