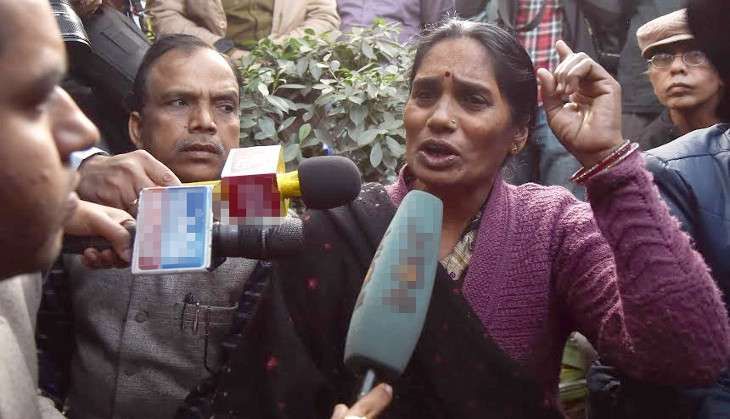 Reacting to the alleged suicide attempt of Vinay Sharma - one of the six accused in the 2012 Delhi gangrape case - victim Nirbhaya's mother Asha Devi said on 25 August that she would have been satisfied had he died.
She said that the incident indicated negligence on the part of law enforcement agencies which failed to punish the guilty despite their brutal act.
"The government and our law enforcing agencies should take a lesson from it that such a big incident took place, where a girl was killed brutally, but they failed to punish the guilty," Nirbhaya's mother told ANI.
"He attempted suicide, I would have satisfied had he died that a sinner has gone from the earth. But, this is an indication of negligence on the part of our law enforcement agencies," she rued.
When told that Vinay's advocates said it was not a suicide attempt but was a murder bid, Asha Devi said, "Whatever he says; whether law punishes him or not; truth is truth, which is suppressed at times, but never vanishes."
"The brutality with which they killed my daughter, the court punishes them or not, the nature (kudrat) will punish them. Their act will not let them live for long," she added.
Expressing her anguish over tardy pace of proceedings against the convicts of brutal gang-rape of Nirbhaya, her mother said, "I want to say that the court and the government should take a lesson from it. There are many people like us who are fighting for justice. My daughter would not return, but there is a hope that we will get justice. I don't know when the justice will come, but I pray to the God that people who are responsible for my daughter's death should be punished."
"I have full faith that there would be justice, even if the court fails to punish them, their act will not let them live for long," she added.
When asked about another accused Ram Singh's suicide in the jail in 2013, Nirbhaya's mother said, "I don't think that they are being harassed in the jail. They have got so much security and facilities that nobody could harm them. This is negligence on the part of the law enforcement agencies that they are doing such things. If they were punished within time, this would have not been the situation."
"They will be punished for their brutal act either by the court or by the God," she concluded.
Vinay's father Hari Ram Sharma, however, alleged that there is some "conspiracy" (mili bhagat) as the "government is planning to release his son".
"There is some conspiracy (mili bhagat) between police and others. He could not do so; he never attempted suicide. Now, the government is planning to release him, they are doing this drama," Vinay's father told ANI.
Alleging that it was a failure of the jail administration and staff, he said, "When I visit there (at Tihar), they frisk me from top to the bottom (such is the security there); then how those medicines reached there," Hari Ram Sharma sought to know.
He further said he recently met his son regarding his daughter's marriage and Vinay told him that he would come soon after he was released.
Rejecting the allegation that Vinay hanged himself, his father said, "How could he hang himself when nothing can go inside his cell? He could not hang himself, he is not like that."
"I want my son to get well soon," said Hari Ram Sharma, adding "They should either leave him of hang him, why they are doing so much drama around it. He is my son, and thus, I am traumatised."
Vinay is recovering at Deen Dayal Upadhyay Hospital, where he was admitted in "critical" condition.
Police said he appeared to have consumed some pills before using a towel to hang himself.
However, another inmate, who woke up in the nick of time, brought Sharma down and alerted the jail authorities.
In March 2013, Ram Singh, another accused in the case, committed suicide by hanging in his cell, exposing the law and order situation at Tihar Jail.
--
ANI