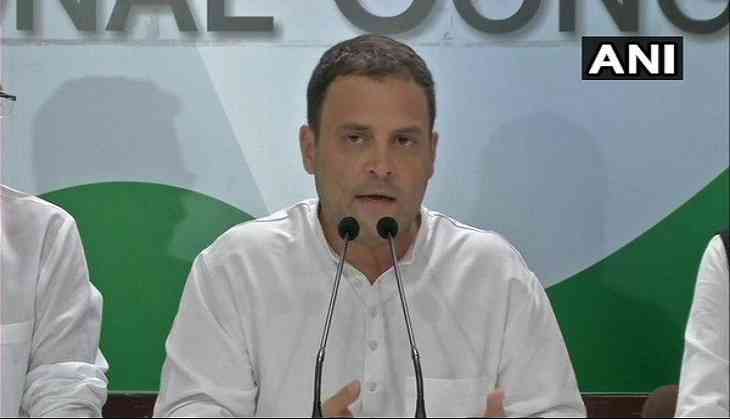 Congress president Rahul Gandhi on Friday alleged that Vijay Mallya's "great escape" was aided by the Central Bureau of Investigation (CBI), who changed the fugitive liquor baron's "detain" notice to "inform".
"Mallya's Great Escape was aided by the CBI quietly changing the "Detain" notice for him, to "Inform". The CBI reports directly to the PM. It is inconceivable that the CBI, in such a high profile, controversial case, would change a lookout notice without the approval of the PM," he tweeted.
According to sources, the CBI said that to make the lookout notice, which was issued against the liquor baron in October 2015, hassle-free, Mallya was forced to leave the country.
"A few days back BOI (Bureau of Immigration) informed the agency that Mallya is coming back to the country. Later the agency changed the lookout notice and asked BOI not to detain him as the agency did not have sufficient evidence against Mallya," the source said.
Gandhi, earlier this week, had accused Finance Minister Arun Jaitley of providing Mallya a "free passage" to "run away" from India after the businessman claimed that he met Jaitley before leaving India in 2016.
"The government is lying on Vijay Mallya. He was given a free passage out of the country by the Finance Minister. The Finance Minister has colluded in a criminal running away from the country," he had said while addressing media here.
Alleging that Mallya was allowed to escape by changing the 'arrest notice' to 'inform notice', the Congress president had also hinted at the CBI's involvement in the matter.
"Finance Minister talks to an absconder, absconder tells him that he is going to London. Finance Minister does not tell this to the CBI, ED or police. Why? The arrest notice was changed to inform notice. This can be done only by the one who controls CBI," he said and demanded the Finance Minister's resignation.
On Wednesday, Mallya, while speaking to reporters outside Westminster Magistrates' Court, where his extradition case was being heard, claimed that he had met the Finance Minister before he left for London.
However, Jaitley, who served as Finance Minister in 2016, rebuffed the claims and said he never gave Mallya an appointment at his office or residence for a meeting.
Mallya, who is wanted in India for defaulting on bank loans to the tune of Rs 9,000 crore, has been in the UK since March 2016. He was arrested by the Scotland Yard on an extradition warrant in April this year.
-ANI