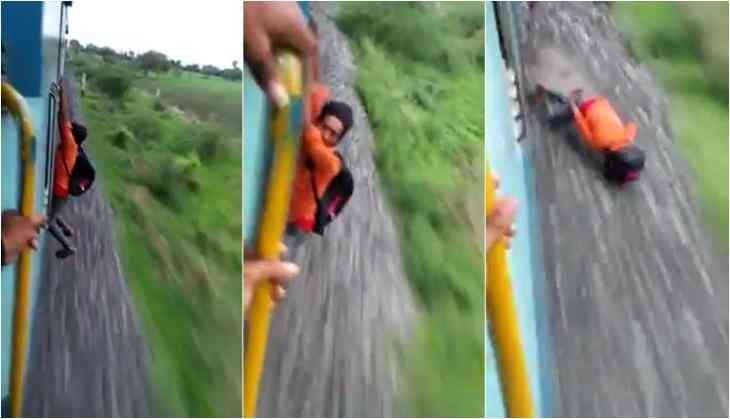 Every other day we come across a video of young kids performing some dangerous stunts in public transports that usually end up in the horrific incident. Recently, a video of a young man performing a dangerous stunt in a moving train is making a row on the internet. The video showcase man hanging and dangling outside an express train near Bengaluru and suddenly he fell from the train.
In the video, he can be seen trying to swing from the side of the train while holding onto the grill of a coach's window. He continues his dangerous stunt and enjoyed it knowing that he is being filmed. Suddenly, he slipt from the train and hits the ground. The shocking accident was caught on camera and Netizens are fuming over his dangerous behaviour.
Watch the video here:
The video is making round on the social media and many people lashed out at his act. Even, some also asked why the passengers didn't pull the chain to stop the train instead of filming him. However, it is not clear what happened to the young man after he fell off the moving train onto the gravel.
Also read: Bhopal hostage case: 'I want Rohit to be hanged' says model freed after 12 hours when she agreed to marry jilted lover