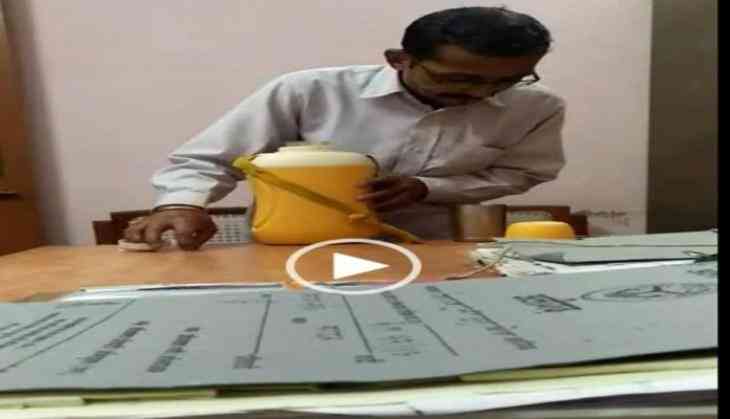 In a shocking incident, an office boy of lady judge used to spit in the glass of water that he used to severe her to drink. A video of the act of peon has become viral on social media. The video shows that the peon pours the water from a water bottle of the judge in a glass. Then after waiting for few seconds, he spits in that glass of water.
After that, he quietly goes with the glass to severe the water to the lady judge. This incident took place in video Aligarh. After the video is viral, the accused peon has been suspended and the investigation of this case underway.
According to a report, the judicial officer deployed in the district used her water bottle to drink. The peon often used to severe the officer water from her water bottle. A few days ago, the woman judge was suspicious of the peon's movements, after which she quietly turned on a mobile camera and placed it on the table in her office.
This complete act of peon got caught in her mobile camera. The lady judge was stunned after watching 2 minutes 18 seconds clip. In the case, after suspending the accused peon, a notice has been sent to him. District Judge Prem Kumar Singh has said that in the case the investigation against the peon will be done. Although it is not yet known, why did the peon of the lady judge do so and how many times he did this? At present, the investigation of this case is underway.
Earlier, a similar news came from Hamirpur in Himachal Pradesh when a peon used to urinate in the drinking water of a judicial officer. Later on, the case was registered against the accused Peon.
Also read: Massive fire breaks out at rubber factory in Delhi's Malviya Nagar, blaze spreads to school; 80 fire engines were rushed Air Force Joins Ops