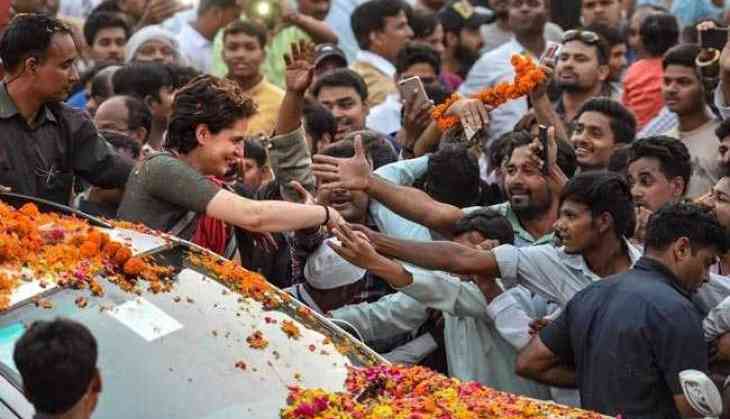 Priyanka Gandhi, Congress general secretary for eastern Uttar Pradesh displayed her sportsmanship on Monday. When Gandhi was campaigning in Madhya Pradesh's Indore, she was greeted by a group of people who chanted pro-Modi slogans during her roadshow.
Soon after she heard those chanting, Gandhi stopped her motorcade before the group and met them with a smiling face affectionately. Congress was moving towards the city from the airport this afternoon. Locals had assembled on the roadsides to catch her glimpse. Women supporters also were seen in large numbers at Indore roadshow.
The group started chanting Modi-Modi slogans as Gandhi's cavalcade passed by. In a surprise moment for them, Gandhi stopped her vehicle and stepped out of it. She greeted those people with a smile and shook hands with them and said, "Aap apni jagah, main meri jagah..all the best."
The locals were pleased by her humbleness and simplicity, wished her luck after which she left. Polling for the Indore Lok Sabha seats is scheduled on May 19 in the seventh the final phase. BJP has a strong hold in Indore, as it has been winning since 1989. The counting of votes is scheduled on May 23rd.
Also read: Amit Shah denied permission to hold rally in WB's Jadavpur, approaches CEO