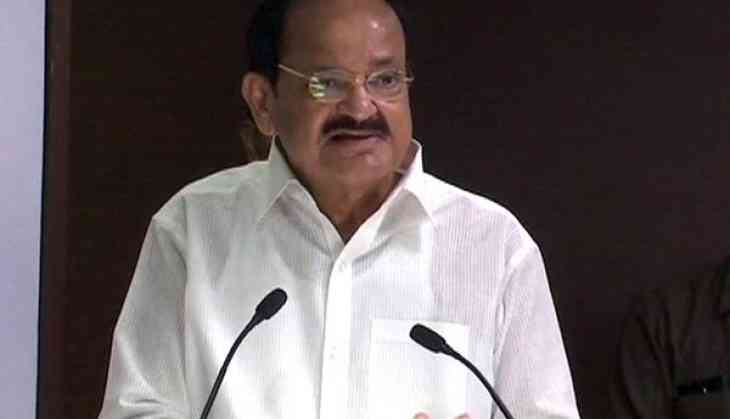 Vice President M. Venkaiah Naidu on Friday said in order to expand the Indian music industry, the Indian government and private bodies need to take more tangible efforts.
"The vast universe of music should reinvent itself making use of the opportunities of the day. We need more tangible action by the governments, private bodies, sabhas and gurus," Naidu said while addressing a gathering on the occasion of 102nd birth anniversary of late carnatic music singer, Bharat Ratna M.S. Subbulakshmi.

He also conferred Shanmukhananda Bharat Ratna Dr. M.S. Subbulakshmi Fellowship in Music to to 50 young and promising musicians.
"We are already using technology to spread this knowledge and more students in India and abroad are learning Indian classical music through online resources and tutors. These efforts need to be further expanded," he added.
The Vice President went on to add that the Indian music has a "vast repository of songs that has been providing continuous nourishment to the mind, heart and soul."
"In many ways, the Indian musicians have given the world a rare menu of soul stirring musical masterpieces. I am glad that this ancient tradition is being continued without a break. However, I am aware of the innovations being tried out within this tradition. The electronic era has brought new dimensions to music concerts. In many ways, technological innovation has transformed the way in which music is produced and consumed. There should be a constant process of synthesis to make sure that music remains alive and is constantly enriched," Naidu said.
Hailing Subbulakshmi, Naidu said, "She received all possible honours of the nation, from SangitaKalanidhi to Bharat Ratna. Yet she retained her rare innate qualities of humility, grace, simplicity and spiritual grandeur. Her voice was divine and enchanting. She used it to bring about a huge transformation on the cultural canvas of this country. When she sang, there was a confluence of her heart and soul. Her rendition captivated all with enduring charm that is sweet, memorable, absorbing and magical.
He added: "Subbulakshmi's music was about balance and proportion. The clarity of her pronunciation, the precision in the placement of her sruthi, her ability to sustain notes, and the superb control she had over her breath, combined with her unique vocalization made her renditions inimitable."
The Vice President further said that today's young musicians "should not merely continue the musical legacy left behind by Subbulakshmi, but also draw inspiration from the qualities of her head and heart, her compassion for the Rasikas, her philanthropy and the abiding interest she had in her fellow artistes.
(PTI)