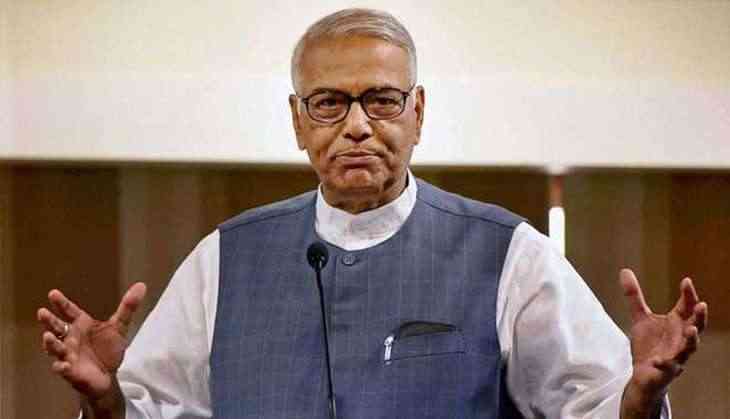 The Former union minister Yashwant Sinha today gave a big shock to the Indian politics by announcing relinquish from BJP. The veteran BJP leader has been not seen nearby to BJP in the recent past, today announced that he is quitting the party. The politician blamed the party's condition to be the reason behind his withdrawal. Mr Sinha said, "I am quitting the BJP because of the party's condition. As you have already seen the recent Parliament session - it was the shortest session in the history."
"I'm breaking all my relations with BJP now and I'll not take any position in the future," Yashwant Sinha announced during a meeting of his organization Rashtra Manch in Patna this afternoon. In the meet, Congress leaders, Lalu Yadav's RJD leaders and BJP's lawmaker Shatrughan Sinha were present.
He announced, "Today I am taking 'sanyas' from any kind of party politics. "I'm not going to join any other political party. I'll set off a strong movement with all my friends and like-minded people in the country to save democracy. Media, too, is being suppressed, under pressure, managed from above. How will the country run in such a situation? My heart beats for the country," he said.
Yashwant Sinha added: "Democracy is under threat and I won't sit tight when there is a crisis". Sinha, who is a vocal critic of the BJP in its present form, blamed the government for the Parliament logjam during the Budget session. On Thursday, BJP's trenchant critic Sinha had announced that he would hold an event with Opposition parties in Patna on April 21 and make a "political announcement".
The BJP Modi's victory in 2014 was diminished by Mr Sinha along with senior leaders, including LK Advani has been witnessed as punished for opposing Mr Modi's being named as PM candidate for Prime Minister. Veteran BJP leader Yashwant Sinha had held the Finance and External Affairs portfolios in Prime Minister Atal Bihari Vajpayee's cabinet between 1998 and 2004.
Also read: