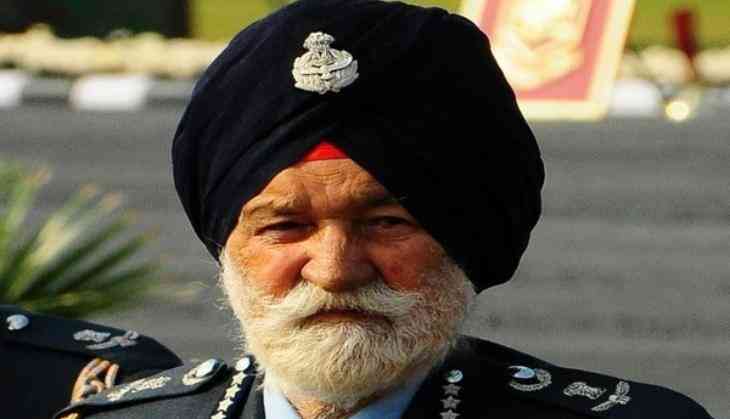 Very few can equal Marshal of IAF Arjan Singh in stature and contribution: Defence Experts
Calling the demise of Marshal of the Indian Air Force Arjan Singh as an end to a big chapter of a history, Defence Experts on Sunday said that very few can equal him in stature and his contribution to the cause of the Defence force as well as the country.
Speaking to ANI, Defence Expert Lieutenant General (Retd.) Raj Kadyan said it is a very sad loss not only to the Air and Defence force but to the whole country.
"He may have been a member of the Air Force by his uniform but he was otherwise a role model for all of in the Defence forces..he lived as a very glorious and illustrious soul. One can only recall his contribution. He was a model not only of physical fitness; he was a model of dignity, character and of poise. With his passing away a big chapter of the history has closed. I think very few people can equal him in stature and his contribution to the cause of the defence force as well as the country. We pray for heavenly peace for his departed soul," he added.
Another Defence Expert Defence Expert P.K. Sehgal said officers like Arjan Singh are a great motivational force.
"He was a very capable and a very high rank officer..In 2002, the country honoured him as a five star marshal of the IAF. In 1938, he was commissioned and retied on 1969. After retirement, he became the Ambassador in Switzerland; became a representative in Vatican City and became a Lieutenant Governor of Delhi. Whatever he did in his life, he only got appreciation from everywhere. He was a sensitive, and humane person," he said.
"When I was given a task to write a book on the role of the Air Defence on 1965 and 1971 wars, I got a lot of opportunities to meet him. I was shocked to see how he helped me with all source of material. I would like to pay my homage to him..this kind of officers is a great motivational force," he added.
India's pride Marshal of the Indian Air Force Arjan Singh passed away on Saturday.
He was admitted to Army's Research and Referral hospital on Saturday morning after he suffered a cardiac arrest, the Defence Ministry said.
Arjan Singh was a respectable figure of the Indian military history.
Marshal of IAF, Arjan Singh had led a young air force into the 1965 Indo-Pak war when he was about 44-year-old.
He was awarded the Padma Vibhushan for his leadership during the war. He flew over 60 aircraft and remained a flyer until the end of his career with the IAF.
Five-star Marshal Arjan Singh retired in August 1969. In 2016, the crucial air base at Panagarh Air Force Station was renamed after him. Panagarh is also the headquarters of the newly raised 17 Crops - Mountain Strike Corps.
-ANI