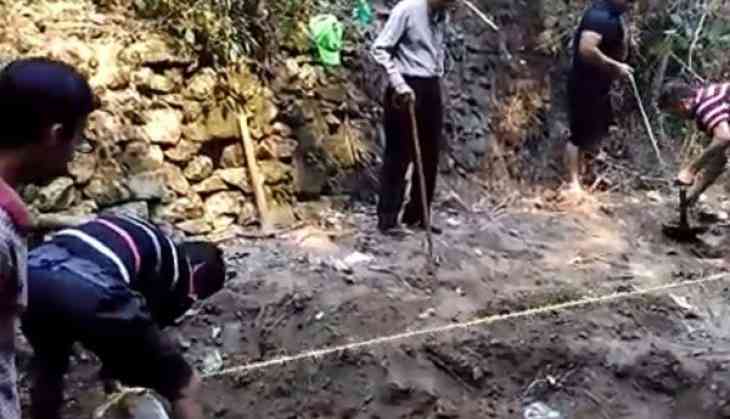 Faced with a severe water crisis, a village in the northern state of Uttarakhand, has launched and introduced a water conservation programme that has won all-round praise.
Inhabitants of Village Dandni, which is located in Uttarakhand's Pauri Garhwal District, said they have been facing a water crisis for the last three decades, if not more. They also said that when it rains heavily in the region, the flow of water assumes flood-like proportions that are equally terrible in terms of impact.
Dandni is located about 3500-feet above sea level and its inhabitants realised with the passage of time that they needed to come up with novel ways to address their water-related problems.
Interacting with Indian Meteorological Department (IMD) experts and going through several international reports, it was discovered that the root cause of water shortage was a shortfall of 9.25 centimeters of rain.
Keeping this in mind, a plan was hatched to identify a six-hectare-long area where ground water would be stored in three large reservoirs. Each of these resevoirs in turn would have channels to facilitate the controlled release of water. Simultaneously, it was also decided to plant 20,000 seeds as part of an afforestation drive.
Participants in this initiative said that this water and tree conservation project could take anywhere between a year to three years to deliver in terms of results.
"We have started implementing a water conversation plan here. We are in Uttarakhand's Pauri Garhwal district. We have some people from Delhi who have come here and started working on the same project on the very first day," said Nitin Bahuguna and Sanjay Kainthola.
Sunil bahuguna, Deepak Singh, Karan Bisht and Birender Bisht from Delhi said, "We have come from Delhi to save water resources here. This is the source of water which is filled with soil. We have started working as soon as we arrived so that we can make some contribution. We have made a pit in which rain water can be stored.
They said that they expected the quantity of water to double in the shortest possible time.
(ANI)