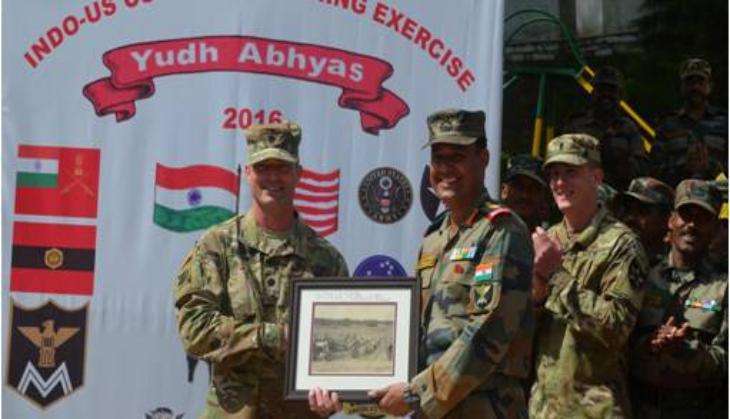 The Indian Army, on 27 September, said the two-week long joint Indo-US military exercise, which focused on counter insurgency and anti-terror operations, in Uttarakhand's Chaubattia forest has been very successful.
The exercise, 'Yudh Abhyas - 2016', which concluded today, was carried out as part of efforts by both strategic partners to enhance overall defence cooperation.
The exercise included a Company Group from an Infantry Battalion of Indian Army and fifth Battalion of 20th Infantry Regiment of the US Army.
In his remarks at the end of the exercise, Major General Thomas James of US Army said army to army relationship between India and the US has never been stronger and that the exercise provided a great way to enhance inter-operability. The combined exercise was "undoubtedly, an unprecedented success", the Army said.
The Indo-US Joint Military Exercise #YudhAbhyas2016 culminated with a magnificent Parade today. pic.twitter.com/xhhUyNMk7R

— ADG PI - INDIAN ARMY (@adgpi) September 27, 2016
The exercise was the 12th in the Yudh Abhyas series, which started in 2004 under US Army Pacific partnership programme. It had the participation of about 225 personnel of the US Army and similar strength of the Indian Army.
Over the years, the two countries have decided to progressively increase the scope and content of the combined exercise. The exercise provided an ideal platform for personnel of the two countries to share their experiences on counter insurgency and counter terrorist operations, especially in the mountainous terrain, the Army said.
Major General RK Raina, in his address, said both countries are faced with similar challenges from the "divisive" forces of extremism and international terrorism and that the synergy achieved will enable both sides to operate together, if the need arises.
--PTI