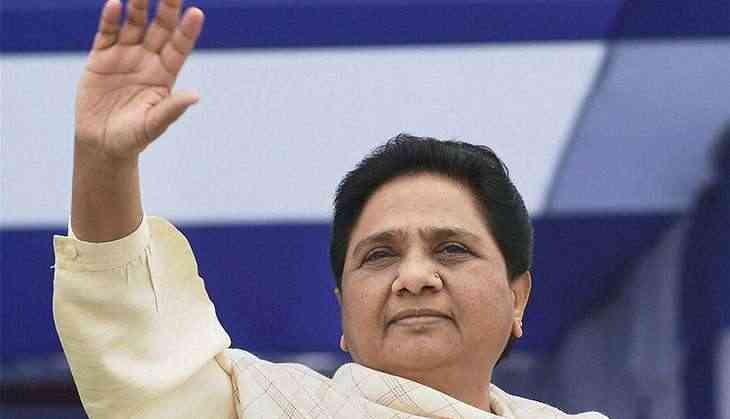 Bahujan Samaj Party (BSP) supremo Mayawati on Friday taunted Prime Minister Narendra Modi for calling himself to be the 'adopted son' of Uttar Pradesh and said that the people of the state would never impose their trust on him despite all dramatic claims.
"The people won't bless BJP, no matter how much drama Prime Minister Modi does by calling himself to be the adopted son of Uttar Pradesh," she said while addressing a rally in Fatehpur.
Continuing her tirade against Prime Minister Modi, Mayawati said the people of Uttar Pradesh are angry with him due to his 'wrong policies'.
"The Bharatiya Janata Party has not yet dared to project a chief ministerial face in Uttar Pradesh. The people are facing lot of difficulties after demonetisation. This decision was taken in haste and was wrong," she added.
Reiterating that the people of Uttar Pradesh are tired of being suppressed by the ruling party, Mayawati asserted that the BSP will form the government with full majority this time.
"If the BSP comes to power, recruitment process in jobs will be made easier. I am sure we will come to power with absolute majority in UP," she added.
Accusing the Centre of attempting to abolish reservation, the BSP supremo said the ruling dispensation has exploited Dalits, adding the BJP is working to impose the RSS' agenda.
She also said that her party doesn't agree with the interference in Triple Talaq and Uniform Civil Code.
Talking about the family feud in the Samajwadi Party, Mayawati said Chief Minister Akhilesh Yadav and his team will have to pay the price for the ill-treatment meted out to Shivpal Yadav by Mulayam Singh Yadav.
Cornering the Akhilesh Yadav government, the former Uttar Pradesh chief minister said the state is witnessing 'jungle raj' under the Samajwadi Party's rule.
With two phases of Uttar Pradesh Assembly elections already being held, the third phase will be conducted on 19 February.
An impressive turnout of over 65 per cent was recorded in 67 Assembly constituencies across 11 districts of western Uttar Pradesh, in the second phase of the crucial state poll.
40 seats of the 403-member Uttar Pradesh Assembly will go to polls in the final phase on 8 March.
-ANI