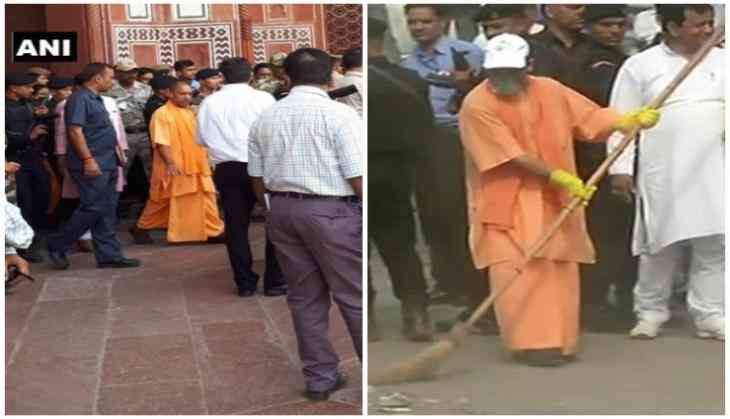 Uttar Pradesh Chief Minister Yogi Adityanath on 26 October visited the Taj Mahal in Agra.
This was his maiden visit to the mausoleum of Mughal Emperor Shahjahan and his wife Mumtaz Mahal, after being sworn into office earlier this year.
Adityanath picked up the broom as he arrived at the monument. He swept a small area outside the Taj off the filth.
His visit gains prominence as it comes against the backdrop of the controversial statement made by BJP MLA Sangeet Som regarding the status of the 17th-century monument in India's culture.
Over 14,000 policemen were deployed across Agra in view of Adityanath's visit.
The Chief Minister, however, had shrugged off the statement stating that "it does not matter who built it and for what reason; it was built by blood and sweat of Indian labourers".
The chief minister is also scheduled to lay the foundation stone for the development of a tourist pathway from the Taj Mahal to the Agra Fort and inaugurate various development projects in the city.
-ANI