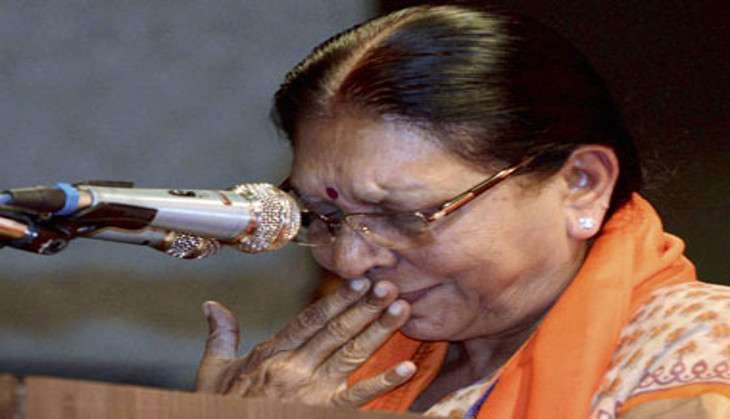 Gujarat Chief Minister Anandiben Patel submitted her resignation to Bharatiya Janata Party (BJP) leaders on 1 August, asking them to allow her to step down from the top post.
Incidentally, Patel had invited major backlash from the Opposition after failing to take stock of the situation which saw various protests being held against atrocities committed against Dalits in Gujarat.
Anandiben Patel took to Facebook and offered to resign from the post of Chief Minister of Gujarat as she turns 75 in November. BJP had declared 75 as the "cut off" age for its ministers.
Minutes after Anandiben Patel announced her decision to step down, Twitter went berserk and exploded with tweets trolling BJP and Patel.
I think #AnandibenPatel sent candycrush invite to modi n he rejected it, saying he is going to play pokimon around d world. She posted resgn

— Jo Varghese (@Indie_jo) August 1, 2016
Anandiben was behaving like Anandi of Balika Vadhu! No independent decision taking authority! #AnandibenPatel

— YJ (@yjthere) August 1, 2016
Selecting 1 from Next 3 CM candidates is like selecting between Donald Trump & Hilary Clinton #AnandibenPatel

— Good Doctor (@iamthemaulik) August 1, 2016
Finally the most corrupt CM #anandibenpatel resigns or have been asked to. No one has made more money in such short span with no work.

— Jitendra Agarwal (@jitendra9577) August 1, 2016
Wanted: Replacement for #AnandibenPatel.
Education not mandatory.
Intelligence frowned upon.
Criminal cases welcome.
MUST LIKE COWS.

— lindsay pereira (@lindsaypereira) August 1, 2016
Additionally, Delhi Chief Minister Arvind Kejriwal did not refrain from taking credit for Anandiben Patel's resignation.
आनंदी जी का इस्तीफ़ा गुजरात में "आप" की तेज़ी से बढ़ती लोकप्रियता का नतीजा है। भाजपा गुजरात में बुरी तरह से डरी हुई https://t.co/4z6aXyZIib

— Arvind Kejriwal (@ArvindKejriwal) August 1, 2016
आनंदी जी का इस्तीफ़ा गुजरात में "आप" की भ्रष्टाचार के ख़िलाफ़ लड़ाई की जीत है। https://t.co/4z6aXyZIib

— Arvind Kejriwal (@ArvindKejriwal) August 1, 2016
He was obviously not spared either.
Kejriwal taking credit for #anandibenpatel resignation is like saying Sachin quit cricket being afraid of DEVENDRA BISHU

— chelchabilogujarati (@dushee79) August 1, 2016
#AnandibenPatel resigned through Facebook in support for #DigitalIndia. Will Kejriwal resign through twitter to prove AAP is one step ahead?

— Pramitha (@Pammiz) August 1, 2016
Some even said that Anandiben Patel's move of resigning via a Facebook post was a bizarre way of promoting BJP's digital India campaign.
Facebook won the battle over Twitter when it came to #anandibenpatel resignation. @Raheelk this is worrying, ensure you get the next one

— Sunil Jain (@thesuniljain) August 1, 2016
CM of Gujarat resigns on Facebook. Resignation accepted on Facebook ( with a LIKE, I presume). Bizarre marketing of #DigitalIndia. :-)

— Sanjay Jha (@JhaSanjay) August 1, 2016
Gujarat CM #anandibenpatel banned internet several times last year. Now she puts her resignation letter on Internet #anandiban

— Z Plus Baba (@zplusbaba) August 1, 2016
So it seems we're doing everything, I repeat EVERYTHING, on social media these days. #AnandibenPatel

— Ritika Chopra (@KhurafatiChopra) August 1, 2016
UNESCO has declared #AnandibenPatel resignation letter as the best resignation letter

— Ahmed Shariff (@TheAhmedShariff) August 1, 2016