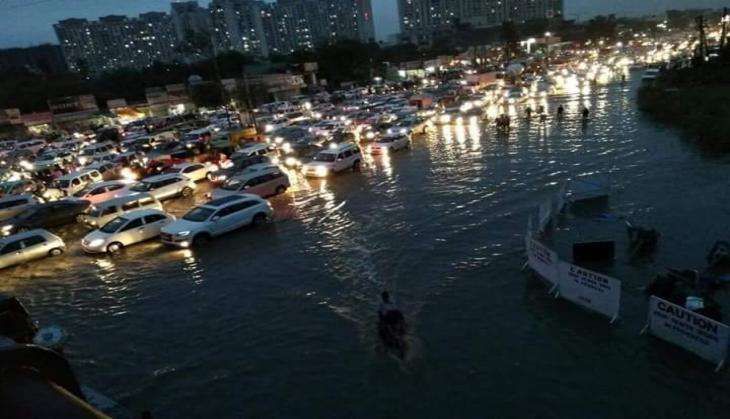 The Millennium City is facing the crisis of the Millennium -waterlogging, traffic jams, electricity cuts and complete shutdown of schools. A day after the entire city was stuck in a six-hour long traffic jam, rain woes continue for Gurgaon alias Gurugram. Twitter is flooded with images and posts by people narrating their horror stories. The only bright side is that the rains haven't washed away people's sense of humour even in these testing times.
Here's a compilation of tweets and images from the mess that Gurgaon has become.
I told you before...my next property investment in Gurgaon a Noha's ark #gurgaonrains #gurgaontraffic https://t.co/yCl10Cl27i

— K (@khushboo) July 29, 2016
In other states of India, they call it horrible traffic jam. In Gurgaon oh sorry #gurugram, we call it life #gurgaonrains

— Prabhash Thakur (@prabhashthakur) July 29, 2016
People of #Gurgaon or #Gurugram forget your petrol /diesel bicker. You should get one of these. #gurgaonrains pic.twitter.com/KFGy1iGskq

— Bhuvan Chowdhary (@B0_oCho) July 29, 2016
"I was stuck in traffic for 10 hours. What about you?" We can't abandon our competitive side even while being stuck in a jam #Gurgaonrains

— avantika bhuyan (@avantikabhuyan) July 29, 2016
Trust #Gurgaon aka #Gurugram to knock the romance out of the rains. #gurgaonrains #MilleniumCity

— Bharath Sesha (@BharathSesha) July 29, 2016
Gurgaon's chowks should be renamed and called chokes now. Examples: Signature Tower Choke, Hero Honda Choke, IFFCO Choke...

— Nardeep S Dahiya (@NSDahiya) July 28, 2016
@mlkhattar we can constitute a team and helpline to save cows. How about the humans stuck here in Gurugram. #gurgaonrains #gurgaontraffic

— Shubhra pant (@Shubhrapant_TOI) July 29, 2016
#Gurugram to #Venice in one day! Development I must say#Gurgaon #gurgaontraffic #gurgaonrains pic.twitter.com/VqM3wvTnYz

— Shantonil Nag (@ShantonilNag) July 29, 2016
Focus on name change only ensures that #Gurgaon continues to be a mess #gurgaonrains https://t.co/3Di3Z4aBCK

— Saikat Datta (@saikatd) July 29, 2016
keep focusing on changing names #gurugram while the janta suffers a 6 hour nightmare #gurgaonrains @cmohry pic.twitter.com/Mcn4Wm8sAV

— Deepti Jalota (@deeptijalota) July 29, 2016
Here are some brickbats for Haryana Chief ML Khattar.
Haryana CM ML Khattar has clarified Arvind Kejriwal's attitude is responsible for Traffic Jam in Gurgaon. Big relief for Nehru

— Joy (@Joydas) July 29, 2016
Millennium city right now! Khattar saab has raised an alert so that cows doesn't face any problem 😂😂😂https://t.co/Mdp77qJoC1

— Kapil💥 (@kapsology) July 28, 2016
So @mlkhattar cancels his visit to GURGAON because his chopper couldn't take off! Maybe he should use an amphibious vehicle? Dingy???

— SUHEL SETH (@suhelseth) July 29, 2016