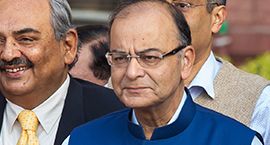 Presenting the budget earlier, Finance Minister Arun Jaitley said the agenda for the next year is to undertake transformative measures based on nine pillars for India.
Outlining the nine pillars for transforming India, the Finance Minister said agriculture, rural sector, social sector, education, skill and job creation to make India a knowledge based and productive economy, infrastructure investment, financial sector reforms, governance reforms and ease of doing business, fiscal discipline and tax reforms to reduce compliance burden would be focus areas.
Here are a few major highlights from the speech in terms of direct and indirect taxes.
1. Corporate tax reduced to 29% for small business having turnover less than 5 crores
2. Reduction in corporate tax - New manufacturing companies after March 1, 2016 have to pay tax at 25%
3. Presumptive taxation scheme introduced for all professionals with receipts up to Rs. 50 lakhs.
#VikasKaBudget Budget at a glance : Key figures pic.twitter.com/YycROLlJFd

- Ministry of Finance (@FinMinIndia) February 29, 2016
#VikasKaBudget Irrigation is crucial for agri production.We need to give our farmers a sense of "income security'. pic.twitter.com/L6AU4W7eeB

- Ministry of Finance (@FinMinIndia) February 29, 2016
#Budget2016: Clean Environment Cess pic.twitter.com/xKbEzkqo5X

- PRS Legislative (@PRSLegislative) February 29, 2016
February 29, 2016
4. FM increases the turnover limit of presumptive taxation Scheme to 2 crores
5. Deduction under Section 80GG for individuals paying rent but not receiving HRA proposed to be increased from Rs. 24,000 to Rs. 60,000.
6. Relief under Section 87A proposed to be increased from Rs. 2,000 to Rs. 5,000
7. Registration of Companies should be given in one day - Companies Act proposed to be amended
8. RBI Act to be amended for providing framework for Monetary Policy Code: FM
9. SEBI Act proposed to be amended to provide more numbers of Securities Appellate Tribunal
10. Amendments in SAFRAESI Act to tackle problem of stressed assets in ARCs
11. FM proposes various amendments to SARFAESI Act
12. Deduction under Section 80JJAA proposed to be extended to all assessee who are subject to tax audit
13. A comprehensive code to provide bankruptcy resolution mechanism will be presented: FM proposes
14. Rs. 1,700 crores allocated for Skill India Mission under Pradhan Mantri Kaushal Vikas Yojna
15. 100% FDI to be allowed in marketing of food products manufactured and produced in India
16. Stand up India scheme to promote SC & ST entrepreneur: FM
17. National SC/ST hub will be created to provide professional support to SC/ST entrepreneurs
18. Certain Dialysis equipment are proposed to be exempted from Basic Custom Duty, Excise Duty and CVD
19. Govt. will launch new health protection scheme to provide health cover of Rs. 1 Lakh
20. Health Insurance of Rs. 1,00,000 with top up of Rs. 30,000 proposed for senior citizen
21. Rs. 38000 crore proposed to be spent on MANREGA in FY 16-17
22. Provision of Rs. 15,000 crores is proposed to reduce burden of farmers loan: FM
23. We need tax reforms to reduce tax compliances: FM
24. Govt. to focus on passing of GST and Bankruptcy laws: FM Arun Jaitley
25. FM: Nominal premium and highest ever compensation in case of crop loss under PM 'Fasal Bima Yojana'
26. Farm, rural sector, infra, social sector to have more Government expenditure, says FM
27. Govt. will start initiative to provide free gas connection to BPL families: FM
28. FM Arun Jaitley: We have bridged the trust deficit created by the previous government
29. Forex reserves at highest level and fiscal deficit has declined: Arun Jaitley
30. Growth of GDP accelerated, CPI inflation come down: FM