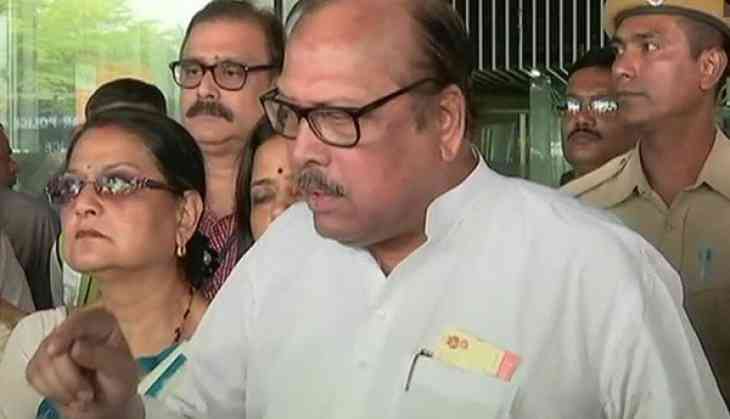 The delegation of the All India Trinamool Congress (AITMC) have returned to Kolkata after being stopped overnight at the Silchar airport.
The delegation claimed that they were allegedly manhandled and physically assaulted by the authorities at the airport.
Speaking on the same, AITMC MP Sukhendu Sekhar Ray told the media that the officials from the Assam state administration prevented the delegation from leaving the airport.
He said, "We were stopped from leaving the airport. They said that under CrPC, Section 144 has been promulgated. We wanted to see a copy of the order. And when we saw, the order said that more than four people were not allowed as per the provision of the law."
Ray added, "77 passengers in the same aircraft were allowed to move out. Only six of us were not allowed. We told that we will go in a different team, comprising two members each. But they did not allow us. We had to cancel our public meeting at Rajiv Bhawan in Silchar. We wanted to see the affected families. We just wanted to have an on-the-spot study of the situation."
The delegation comprising MPs Sukhendu Sekhar Ray, Kakoli Ghosh Dastidar, Ratna De Nag, Nadimul Haque, Arpita Ghosh, Mamata Thakur, minister Firhad Hakim and MLA Mahua Moitra, was scheduled to visit Silchar on the issue of Assam's National Register of Citizens (NRC) draft.
Cornering the Bharatiya Janata Party (BJP) over Assam's final NRC draft, Ray further said, "40 lakh people have been eliminated in the NRC. Nowhere in this world has this happened. How come 40 lakh claims can be done in one month. This is a myth. The BJP at the centre and in Assam are colluding with each other and are trying to eliminate linguistic and religious minorities from Assam.
The TMC and our leader Mamata Banerjee unequivocally condemn this incident."
Earlier on Thursday, Moitra allegedly assaulted a lady constable who restrained her at the Silchar airport. In a video accessed by ANI, Moitra could be seen physically assaulting a female constable, even as the latter pleaded the lawmaker with folded hands to calm down. The video also showed some of the other party workers sitting on the conveyor belt in the airport as a mark of protest.
Director General of Assam Police, Kuladhar Saikia later said legal action would be pursued against the eight-member delegation of AITMC.
The draft list left out nearly 40 lakh people in Assam, incorporating names of 2.89 crore people out of 3.29 crore applicants. The first draft was published on December 31, 2017, and names of 1.9 crores of the 3.29 crore applicants were incorporated.
The NRC draft features the names, addresses and photographs of all Indian citizens, who have been residing in the northeastern state before March 25, 1971.
--ANI