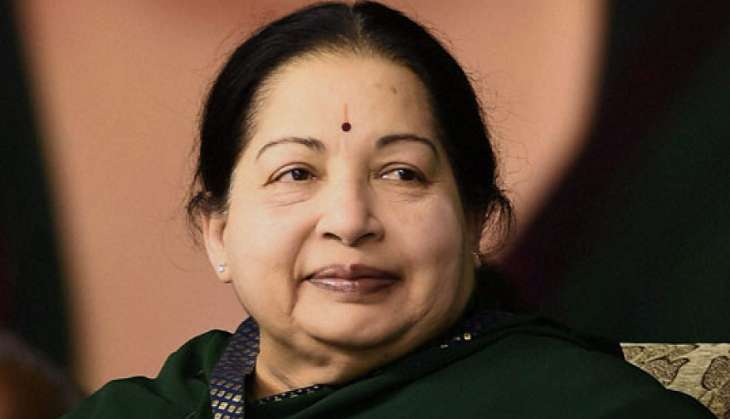 Tamil Nadu Chief Minister J Jayalalithaa suffered a cardiac arrest on 4 December 2016 at around 9:30 pm, according to a statement put out by Apollo Hospitals at 9:40 pm. It was also reported that the cardiac arrest was massive and took the doctors almost 45 minutes to stabilise her.
Here is the timeline of events that commenced when Jayalalithaa was admitted to the Apollo Hospitals in Chennai on 22 September:
5 December
Centre dispatches a team of specialists from AIIMS to Apollo Hospitals, Chennai, for her treatment.
Union health minister JP Nada said that Jayalalithaa was out of danger but Apollo's press release said her condition is 'very critical' and is on ECMO and other life support systems.
4 December
Jayalalithaa suffers a cardiac arrest at around 9:30 pm. Doctors said it was a massive cardiac arrest and it took 45 minutes to stabilise her.
25 November
The Chief Minister is communicating through a speaker (a speaking valve) for a few seconds or a few minutes at a time, Apollo Hospitals says.
19 November
The Apollo Hospitals Group founder and cardiologist Pratap C Reddy said that Jayalalithaa is returning to normalcy, her vital organs are functioning well. She has been shifted out of Intensive Care Unit and is responding "beautifully" without ventilator, said the hospital.
13 November
In her first direct communication since her hospitalisation, Jayalalithaa said she had taken a rebirth because of her people's prayers and urged them to vote for AIADMK in the 19 November polls, in a statement released to AIADMK in Chennai.
7 November
Tamil Nadu Chief Minister J Jayalalithaa may be discharged from Apollo Hospitals in less than 15 days. All her vital parameters are under control. She is being given physiotherapy exercises, an AIADMK spokesperson C Ponnaiyan had said.
29 October
Jayalalithaa signs the poll papers with a thumb print.
27 October
AIADMK claimed that doctors have said that Jayalalithaa is on the road to full recovery and have even decided on her discharge date.
22 October
There was an update from the hospital pointing out that she was largely conscious and was able to sit up in her hospital bed. The hospital also said that she is "interacting and progressing gradually."
13 October
AIIMS experts and UK doctor Richard Beale visited Apollo Hospital to examine Jayalalithaa.
12 October
O Paneerselvam, a trusted aide Jayalalithaa and former Tamil Nadu chief minister was assigned charge of eight departments after doctors signalled that Jayalalithaa was not yet fit to resume her duties.
BJP President Amit Shah and Union Finance Minister Arun Jaitley visited the Apollo Hospital to enquire about the Tamil Nadu Chief Minister's health.
11 October
Police registered 43 cases and arrested two persons in connection with posting of "malicious and false content" on social media about Jayalalithaa's health. Special teams, constituted to investigate such cases, were working to identify those who had posted the content on social media.
10 October
According to a report by The Financial Express, AIADMK launched a Twitter campaign titled 'My CM is fine' to counter spreading of rumours regarding Jayalalithaa's health.
9 October
Main Opposition party DMK demanded either a "Chief Minister incharge or a new Chief Minister." However, it could not gather support from the key ally of DMK, the Congress.
8 October
Apollo Hospitals said the chief minister was being treated for lung decongestion, and that all other comprehensive measures including nutrition, supportive therapy and passive physiotherapy were underway.
7 October
Rahul Gandhi visited Apollo Hospital to see Jayalalithaa. He was the first national leader to visit the ill Tamil Nadu chief minister.
BJP MP Subramanian Swamy urged Union Home Minister Rajnath Singh to impose President's Rule in the state.
6 October
Three-member doctors team from All India Institute of Medical Sciences (AIIMS), Delhi, consisting of pulmonologist GC Khilnani, cardiologist Nitish Naik and anaesthetist Anjan Trikha were to examine Tamil Nadu Chief Minister Jayalalithaa in the hospital, reported media.
Apollo Hospitals said that the treatment plan included appropriate antibiotics, respiratory support and other allied clinical measures presently being continued to treat the infection.
4 October
The Madras High Court directed Tamil Nadu's Additional Advocate General to get instructions from the government on her health, after social activist Traffic Ramaswamy filed a public interest litigation (PIL) seeking the real status of Jayalalithaa's health.
People were anxious to know about the Chief Minister's health, court observed.
2 October
AIADMK dismissed demands to release photographs of hospitalised Jayalalithaa following DMK's demand.
1 October
Tamil Nadu Governor C VidyasagarRao visited Jayalalitha at Apollo hospital.
AIADMK announced the candidates for the upcoming civic polls while in the hospital.
A senior leader and spokesperson 'Panruty' S Ramachandran, said Jayalalithaa would "return home soon".
30 September
DMK chief M Karunanidhi wished Jayalalithaa a speedy recovery but urged the government to "put an end to the rumours," by releasing photographs of the Chief Minister.
27 September
AIADMK tweeted that Jayalalitha had convened a meeting at Apollo Hospital to discuss the interim directions issued by the Supreme Court on the Cauvery River issue with Karnataka.
24 September
AIADMK party members dismissed reports that Jayalalithaa will be flown to Singapore for further treatment.
"It is false information. She is not going anywhere...someone is spreading wrong news. She will soon return home."
22 September
Jayalalithaa was admitted to Apollo Hospital for fever and dehydration, shortly after that the hospital issued a statement saying she was under observation and had "no fever now".