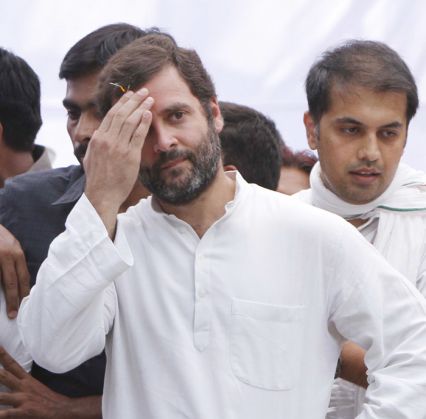 Commending Congress vice president Rahul Gandhi for his "understated" role in the victory of the Grand Alliance in Bihar polls, Amritsar MP Amarinder Singh today said time has come for Rahul to take over the reins of the party.
Talking to reporters during National Press Day celebrations here today, Amarinder said Rahul had proved his leadership skills in Bihar where not only did the Congress make massive improvements over the 2010 tally, but also made immense contribution to the Grand Alliance's impressive win.
Replying to a specific question about Rahul Gandhi taking over the reins of the party, he said, "Of course time has come for him to take the lead."
He noted that Rahul's role in cementing together of the Grand Alliance and its eventual impressive victory in Bihar was "understated".
Pointing out that Congress has presence across Bihar with significant percentage of votes in all the constituencies, he said the entire Congress vote was transferred to the Grand Alliance thanks to the active role Rahul played there.
"The result is before all of us and Rahul duly deserves the credit for the same," Amarinder asserted.
-PTI