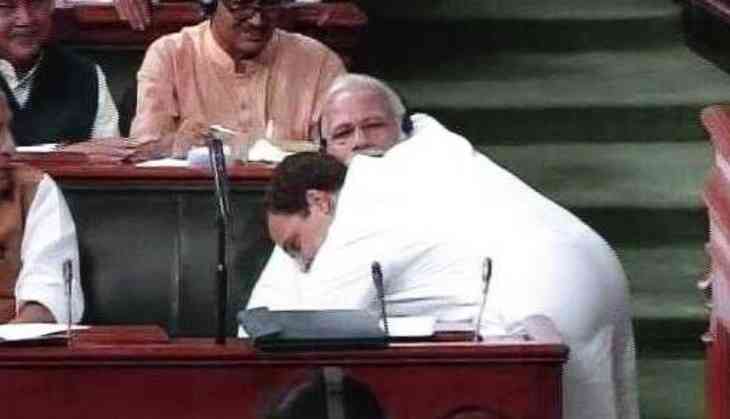 Parliament has witnessed its another long-running session of 10 hours on Friday. The debate over no-confidence motion decision has finally come out on 20th July and finally, Modi government got its trust vote. During the debate, everyone got surprised when Congress President Rahul Gandhi all of sudden walked toward Prime Minister Narendra Modi and gave him a hug. He did just after completing his speech when he was targeting the Modi and his government.
However, after giving hug to PM Modi, Rahul said that this is the meaning of being Hindu. Later, he was also seeing winking at his fellow party member.
However, this incident video clipping soon becomes viral over the social media. Everyone on social media gave their response in their style. Some of them liked what Rahul did in Lok Sabha while some took it as funny and created memes on it. On the other hand, the dairy brand has made a cartoon on Rahul Gandhi and PM Modi which has grabbed the attention of everyone.
In the Amul's cartoon, Rahul Gandhi can be seen giving hug to PM Modi. The cartoon has also a text mentioned, 'Embracing Ya Embarrassing'.
Amul shared the cartoon on Twitter and wrote:
'#Amul Topical: Hugs in Parliament....'
#Amul Topical: Hugs in Parliament.... pic.twitter.com/dNurd7XDaX

— Amul.coop (@Amul_Coop) July 20, 2018
Later, this advertisement of Amul went viral on the micro-blogging site and Tweeple started giving their reaction.
Here's how Twitterati reacted:
July 20, 2018
You amul guys are the best .... Always making something sarcastic memes on current hot topics ...🤣😛😉

— Viswam jr 🇮🇳😎 (@EshwarViswam) July 20, 2018
They are at the top of their game as always 😇

— Am I Write? (@WordsSlay) July 20, 2018
This is quick.....really very very quick.. 😉 https://t.co/9YwKGtNQap

— Haяšħ Ðöšħ! (@HarshD0shi) July 20, 2018
Amul, the original meme makers since 1967. Super idea every week. 😂😂

— #WhatNext (@ThisNMore) July 21, 2018
Omg ..Even Amul is trolling 😂😂😂

— Renu Sharma (@Renu_NR) July 20, 2018
We must appreciate the creative thinking of Amul that every time it comes up with a unique idea.
What do you think?
Watch Video:
Also read: No-Confidence Motion: Here's PM Modi's befitted reply to Rahul Gandhi's remark, 'We don't have the guts to look you in the eye'