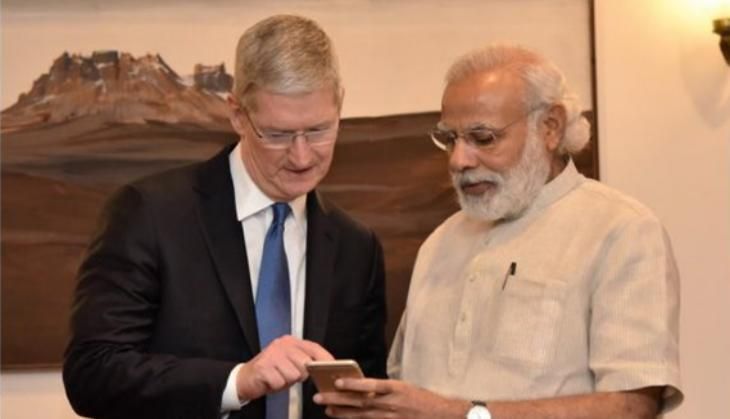 On 21 May, Apple Chief Executive Officer Tim Cook shared Apple Inc's future plans for India. He also appreciated the breadth of young talent in India.
During his meeting with Prime Minister Narendra Modi, Cook congratulated him on the recent election results and spoke highly of the warmth he had been accorded during his visit.
Cook spoke about his visit to different parts of the country, and his meetings with people including youth, business leaders, and film actors. He spoke fondly about his visit to the Siddhivinayak Temple in Mumbai, and watching a cricket match.
The Prime Minister, appreciating Cook, said that in India, 'seeing is believing' and added that these experiences would definitely steer the CEO's business decisions.
Cook shared Apple Inc's future plans for India and spoke of the possibilities of manufacturing and retailing in India. Appreciating the breadth of young talent in India, Cook said the youth have significant skills which Apple would like to tap and mentioned the immense potential for 'app-development' that exists in the country.
He also elaborated on the Map Development Centre that Apple Inc is setting up in Hyderabad, while appreciating the Prime Minister's initiatives in 'ease of doing business.'
Cook appreciated the Prime Minister's initiatives for renewable energy and said that Apple runs on 93% renewable energy, and spoke of plans to move Apple's entire supply chain to renewable energy.
Delegation members accompanying Cook also spoke of their experiences in rural Rajasthan, where several villages have recently been electrified, and women are being skilled to assemble and operate solar energy equipment.
Both Cook and the Prime Minister shared some unique stories of entrepreneurship that they had come across in app-development and renewable energy.
The Prime Minister explained his Digital India initiative, and identified three key objectives of Digital India as e-education, health and increasing farmers' incomes, while seeking support from Apple in furthering these objectives.
Issues regarding cyber-security and data encryption also came up for discussion as Prime Minister Modi encouraged Cook to help the global community to cope with the challenges of cyber-crime.
Cook also launched an updated version of the 'Narendra Modi Mobile App.' "I am delighted to share that Mr. Tim Cook launched an updated version of the 'Narendra modi mobile app'. Thank you Mr Cook. This updated version contains a new volunteering network on the App," the Prime Minister tweeted.
Calling on the citizens to take at look at the new features called 'my network' in the app, he said that it empowers people to contribute on 'lively and enriching forums' where they can share their ideas and deliberate with others.
Tim Cook, who landed in India this week, said the company would establish a Design and Development Accelerator in Bengaluru, the home of India's startup scene.
--ANI