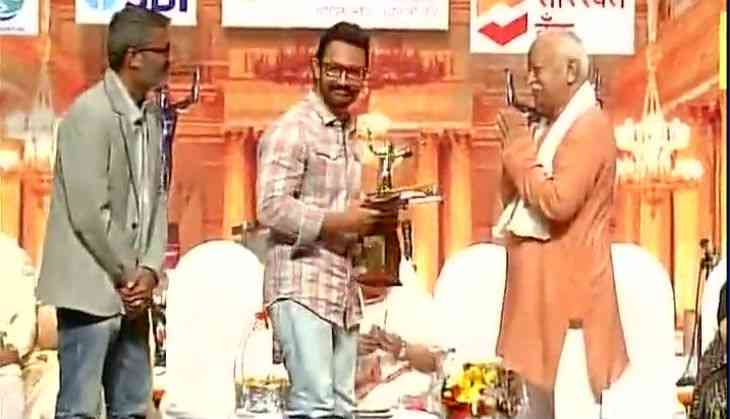 The superstar who spoke of growing intolerance in 2015 raises many eyebrows with his acceptance of 75th Dinanath Mangeshkar Awards at the hands of the currently reigning deity of Hindutva.
Aamir Khan is known for staying away from award functions. The 53-year-old actor had also created a stir not long ago with his remark about growing intolerance in the country to an extent that his own wife was wondering whether they should migrate to another country. Right-wing Hindus had responded to his comments by calling for a boycott of his films, declared him "anti-national" and asked him to go to Pakistan.
That was in 2015. Now the Indian Express has a story about the same Aamir Khan accepting an award from RSS chief Mohan Bhagwat. He received the Vishesh Puraskar from Bhagwat at the 75th Dinanath Mangeshkar Awards function for his performance in Dangal, one of the biggest hits of 2016.
Dangal was based on the story of Mahavir Singh Phogat and his struggle to train his two daughters, Geeta Phogat and Babita Phogat, to win accolades in wrestling, a sport that is usually dominated by men.
"Today wherever I am, the credit goes to all the writers who have written my films. I am here because of the directors and writer for the wonderful work they've done. I thank all of them," he said while receiving the award.