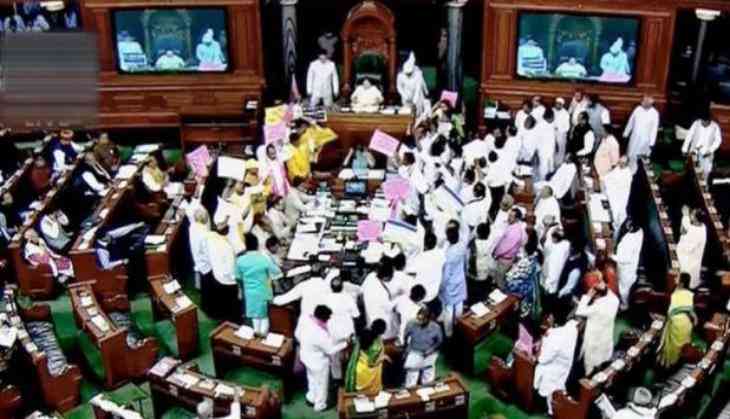 TDP, YSR Congress 'no-trust' motion: Lok Sabha Rajya Sabha adjourned after ruckus; Shiv Sena says, won't support Centre or Opposition over protest against BJP
Parliament witnessed a storm after the Andhra Pradesh Chief Minister Chandrababu Naidu's TDP, YSR Congress's no-confidence motion against the BJP-led NDA government by lawmakers in Lok Sabha, leding to Lok Sabha adjourn till noon.
On Friday, the no-confidence motion notice by TDP and YSR Congress was received by the Lok Sabha speaker, Sumitra Mahajan. She said the motion cannot be brought to the House if it is not in order and adjourned the House till Monday.
We want a discussion on the no-confidence motion issue, we appeal to everyone that there should be discussion said Union Home Minister, Rajnath Singh.
The Parliament Session was held up for the 11th day as the TDP, TRS, YSR Congress and AIADMK continued their protests over the various issues, including the banking scam and special status for Andhra Pradesh.
The TDP, AIADMK MPs could be heard shouting "We want justice". However, Speaker Sumitra Mahajan began with day's business, asking ministers to lay their papers on the table. The Rajya Sabha was adjourned for the day.
While the Lok Sabha sessions were first adjourned till noon and then for the day, the Rajya Sabha was adjourned straight till 2.30 pm.
Meanwhile, Shiv Sena MP Arvind Sawant reported said that the party will abstain from the no-confidence motion. "We will neither support the government nor the Opposition. We will abstain," he said.
Ahead of Monday's Parliament session, Parliamentary Affairs Minister Ananth Kumar said that 'the saffron party was ready to face the no-confidence motion as it is sure it has the necessary support.'
The Parliament secretariat received three separate notices for a no-confidence motion against the BJP government on Monday, two of which were from TDP and one from the YSR Congress, reported ANI. Lok Sabha Speaker Sumitra Mahajan is likely to take up the notices after Question Hour if the House is in order.
The NDA is preparing the path for taking the neck-to-neck fight to the people of Andhra Pradesh. BJP General Secretary Ram Madhav was appointed as AP in-charge on Sunday.
Also read: MNS chief Raj Thackeray takes a dig at BJP says, 'Modi Mukt Bharat' in 2019 Election