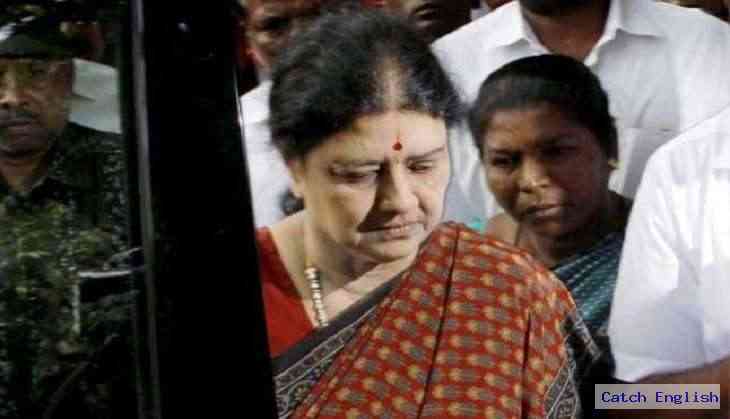 Following is a timeline of events linked to AIADMK general secretary V.K. Sasikala and her involvement with both the disproportionate assets case and the political developments in Tamil Nadu.
What
Supreme Court on Tuesday convicted AIADMK general secretary VK Sasikala in a disproportionate assets case.
When
10:49am: SC judgement came on Sasikala which runs into more than 500 pages.
Highlights:
She will not be able to contest elections for 10 years or hold public office.
She has been ordered to surrender to the law enforcement authorities immediately to serve the remainder of her four-year jail term.
How:
A two-judge bench of the Supreme Court on Tuesday convicted All India Anna Dravida Munnetra Kazagham (AIADMK) general secretary V.K. Sasikala in connection with a 19-year old disproportionate assets case, setting aside on earlier Karnataka High Court order
The Background:
The verdict comes in the backdrop of the ongoing power struggle within the ruling AIADMK in Tamil Nadu - between Sasikala and the incumbent Chief Minister O. Panneerselvam. The pending disproportionate assets case that posed a legal hurdle against Sasikala's taking over as the chief minister, dates back to 1996. Late J. Jayalalithaa, Sasikala and her two relatives, Ilavarasi and Sudhagaran, were convicted in the case that alleged that the former chief minister owned assets far exceeding her known sources of income.
What was the case against Sasikala?
Sasikala with former Chief Minister Jayalalithaa was an accused of allegedly amassing disproportionate asserts to the tune of Rs 66.65 crore during Jayalalithaa's first term as Chief Minister from 1991 to 1996. Her relatives V N Sudhakaran and Elavarasi are also accused. In May 2015, Jayalalithaa, Sasikala and two other accused were acquitted by the Karnataka High Court in the disproportionate case. The Karnataka government then moved the Supreme Court against the high court's ruling. The Supreme Court had reserved the verdict in the 19-year-old illegal wealth case after 20 days of arguments in the case last year.
Impact:
Tuesday's judgment will shape up the Tamil Nadu politics for days to come.
- It will scuttle Sasikala's chances of becoming state Chief Minister. She will be ineligible to be the chief minister as the Constitution mandates election to the assembly within six months of assuming office.
- Acting chief minister O Panneerselvam may again become Chief Minister of Tamilnadu.
Now what:
- The ball is in the Governor's court now.
- He may ask acting chief minister O Panneerselvam to prove the majority on the floor of the house.
- He may also ask the rival camp to show the strength to form the government.
Timeline:
7:30 a m: Police was kept on high alert in Chennai and across Tamil Nadu to prevent any untoward incidents ahead of the SC verdict in the DA?case in Delhi.
8:00 a m: In Chennai, Policemen deployed outside Golden Bay Resort, where AIADMK MLAs believed to be loyal to Sasikala have been camping. However, there are allegations from rivals that these lawmakers are in captivity.
8:50 a m: Policemen also deployed outside Poes Garden as a precaution ahead of SC verdict in disproportionate assets case.
9:00 a m: AIADMK leader M Thambidurai reaches Golden Bay Resort in Kovathur to meet Sasikala.
9:33 a m: Fisheries minister D Jayakumar arrives at Golden Bay Resorts.
9:50 a m: One more MLA joins Panneerselvam camp, just half an hour before the likely Supreme Court verdict in a DA?case against Sasikala. Now, nine MLAs are backing OPS.
10:37 a m: Supreme Court convicts Sasikala, asks her to surrender immediately.
10:38 a m: Trial court to take Sasikala and others into custody.
10:43 a m: The Supreme Court reverses a 2015 Karnataka HC verdict, and restores a trial court order of Rs 10-crore fine and confiscation of properties.
10:44 a m:?Sasikala barred from fighting elections for ten years. She will spend four years in jail after which she can't contest for 6 years.
10:46 a m: Proceedings against former CM Jayalalitha's stand abated.
10:47 a m: SC, however, found incriminating evidence against Jayalalithaa.
Timeline of the disproportionate assets case
June 14, 1996- Subramanian Swamy filed a case against Jayalalithaa's acquisition of wealth alleging disproportionate of her income from known sources.
June 18, 1996- The DMK led government filed an FIR against the former chief minister J Jayalalithaa.
Dec 7, 1996: Jayalalithaa arrested. Allegations included accumulation of disproportionate assets.
June 4, 1997- Chargesheet filed against Jayalalithaa, Sasikala, Ilavarasi and Sudhakaran in the disproportionate assets case. They are charge-sheeted for offences under sections 120-B IPC, 13(2) read with 13(1)(e) of the Prevention of Corruption Act, 1988.
May 14, 2001- Jayalalithaa-led AIADMK was voted back to power in Tamil Nadu with absolute majority and Jayalalithaa becomes CM. Her appointment is challenged due to her conviction in October, 2000 in the TANSI (Tamil Nadu Small Industries Corporation) case.
September 21, 2001: The Supreme Court nullifies the appointment. Jayalalithaa ceases to be CM.
After her conviction is set aside, Jayalalithaa is elected to the Assembly in a bypoll from Andipatti constituency on February 21, 2002, and again sworn in as CM.
November 18, 2003: SC transfers the case to Bengaluru. DMK general secretary K Anbazhagan had approached SC for transferring the trial to Karnataka on the ground that a fair trial was not possible in Tamil Nadu with Jayalalithaa as CM.
February 19, 2005: The Karnataka government appoints B V Acharya, a former Advocate General, as Special Public Prosecutor to conduct the prosecution.
October/November 2011: Jayalalithaa deposes in the Special Court and answers 1,339 questions.
September 27, 2014- The Special court convicted Jayalalithaa, Sasikala and the others under charges of illegal property acquisition. Awards four years' prison term to Jayalalithaa, slaps Rs 100 crore fine. All of them were lodged in the Parappana Agrahara central jail in Bangalore.
September 29, 2014- Jayalalithaa filed a bail plea in the Karnataka High Court, challenged conviction.
October 7, 2014: The Karnataka High Court rejected the bail plea, citing 'no grounds,' to do so.
October 9, 2014: Jayalalithaa moves SC seeking bail.
October 17, 2014- Supreme Court granted bail to Jayalalithaa
October 18, 2014: After 21 days in prison, Jayalalithaa released from prison on bail. SC says it will ask Karnataka High Court to complete hearing on appeal in three months.
December 18, 2014: SC extends Jayalalithaa's bail by four months. A bench headed by CJI H L Dattu orders that her appeal challenging conviction in Karnataka HC be conducted on a day-to-day basis by a Special Bench.
March 11, 2015: Karnataka HC reserves order on appeal by Jayalalithaa and three others including confidante Sasikala in disproportionate assets (DA) case.
May 11, 2015- Karnataka High Court appealed against the acquittal of Jayalalithaa and three others to the Supreme Court
May 23, 2016- Jayalalithaa came back to power as chief minister of Tamil Nadu again.
June 23, 2015: Karnataka Govt moves SC against Jayalalithaa's acquittal in DA case.
July 27, 2015: SC issues notice to Jayalalithaa on appeal challenging her acquittal.
Feb 23, 2016: SC commences final hearing on the appeals against Jayalalithaa's acquittal.
December 5, 2016- Jayalalithaa passed away.
February 14, 2017- Sasikala convicted by the Supreme Court.
What Attorney general said?
Attorney general Mukul Rohatgi advised Tamil Nadu governor Vidyasagar Rao on Monday to hold a composite floor test in the assembly to ascertain the strength of the two claimants to the throne. Rohatgi gave his legal opinion in response to a query from the governor.
-ANI