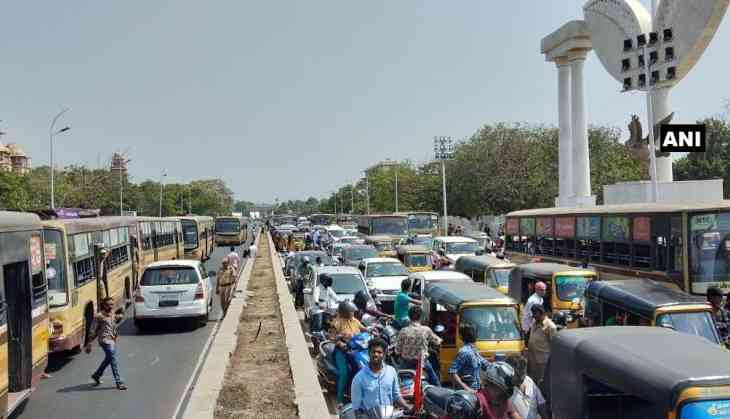 As farmers, traders, students, lawyers and film associations have joined Tamil Nadu Bandh called by Opposition against the Central government's failure to set up the Cauvery Management Boar, the state's public life disrupted.
The bandh has hit public transport as buses were off roads. Shops and hotels stayed closed. The bandh have been called by the main opposition party Dravida Munnetra Kazhagam (DMK) along with the Congress, the Communist parties and regional parties including Viduthalai Chiruthai Katchi (VCK) and Manithaney Makkal Katchi (MMK) demanding the formation of the Cauvery Management Board in line with the Supreme Court order.
The traders' association said that around 2.1 million shops acroos the state will remain shut today as a mark of the protest. Petrol pumps will remain open during the bandh. Channai face massive traffic jam due to 'road-roko' protest.
DMK working President MK Stalin was detained during the protest in Chennai. The Tamizhaga Vazhvurimai Katchi (TVK) party demanded to ban Indian Premier League (IPL) match on April 10 till Cauvery Management Board is formed.
"We have submitted our request to Police Commissioner to not let IPL match take place on April 10 till Cauvery Mangement Board is formed. If at all any match happens we will protest in the stadium," TVK leader Panruti T Velmurugan told media here on Wednesday.
On February, The Supreme Court directed the Centre to constitute the authority to handle the issue between Karnataka and Tamil Nadu with six weeks.
Tamil Nadu approached the Supreme Court alleging contempt of court against the Centre for not setting up the Board. The issue will be heard on April 9.
Earlier, the central government had approached the apex wanting some clarification in regard to the interpretation of its judgment.
The opposition parties accused that the ruling party AIDMK is not put enough pressure on the Centre to implement the court order.