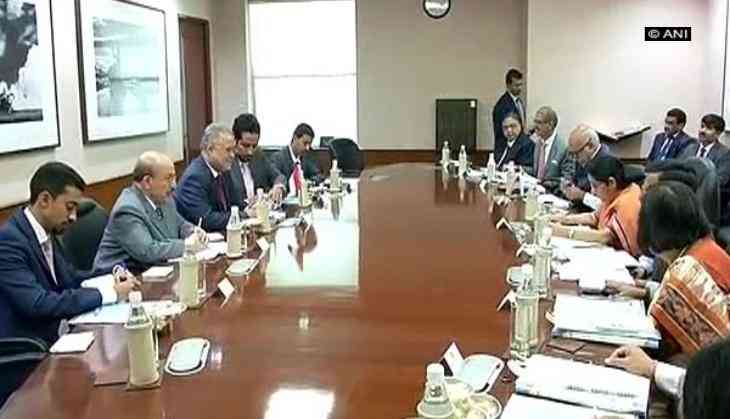 Sushma raises concern over safety of abducted Indian priest with Yemen Minister
External Affairs Minister Sushma Swaraj raised the issue of the safety and release of Indian priest Father Tom Uzhunnalil, who was kidnapped in April 2016 from Aden, during her talks with Deputy Prime Minister and Minister of Foreign Affairs of the Republic of Yemen Abdulmalik Abduljalil Al-Mekhlafi and reiterated the request for continued assistance from the Yemeni authorities in securing his safe and early release.
The Yemeni Deputy Prime Minister conveyed that as per available information, Father Tom was alive and the Yemen Government has been making all efforts to secure his release. He assured all cooperation in this regard.
Appreciating India's steadfast support for Yemen during difficult times, including India's humanitarian assistance, Minister Mekhlafi highlighted that "India continues to welcome Yemeni nationals, especially for higher studies and medical treatment and requested increase in slots for Yemeni students as also facilitation of medical visas for the Yemeni patients as India has been their most preferred destination."
Sushma assured "all possible assistance, including thorough supply of much-needed medicines at Yemen's request" and conveyed that "as a special gesture, ICCR's scholarship slots for Yemen would be increased from the existing 35 to 55 annually."
She also offered 50 ITEC slots for Yemen for 2017-18.
The Indian Minister thanked the Government of Yemen for their whole-hearted cooperation and support in evacuation of Indian and foreign nationals from Yemen under the well-acknowledged "Operation Raahat" conducted by Government of India in March-April 2015.
External Affairs Minister also hosted a lunch in honour of the visiting dignitary.
Sushma Swaraj held delegation level talks with Deputy Prime Minister of Yemen Abdulmalik Abduljalil Al-Mekhlafi at Jawaharlal Nehru Bhawan in New Delhi in which the two ministers discussed bilateral, regional and international issues of mutual interest.
-ANI