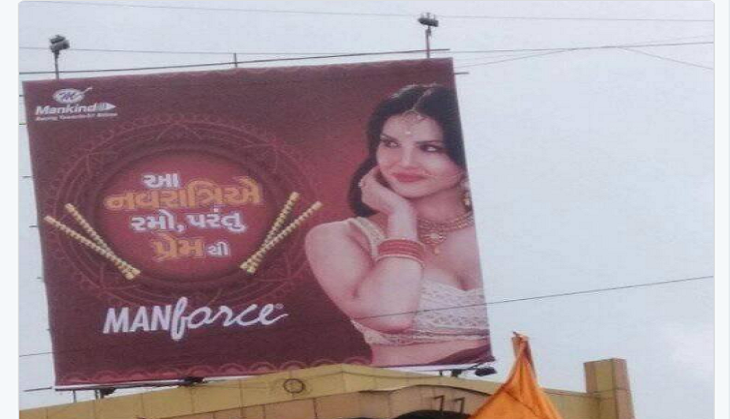 Bollywood actress Sunny Leone who is a brand ambassador of Manforce condoms have landed in trouble. The condom company displayed an advertisement of condoms on hoardings which were placed all over the city of Gujarat. A city-based group Hindu Yuva Vahini has organised a protest against the hoardings and have also threatened to get violent aboutthe same if the hoardings are not removed.
The group leader of the group Narendra Chaudhary told a popular news portal, "The message in Gujarati on the hoarding reads 'Aa Navratri a ramo, parantu premthi' - this Navratri, play but with love. The insinuation on the hoardings from a condom brand insults the religious sentiments of Hindus."
Chaudhary further stated, "This cannot be tolerated and our protests will get stronger if these hoardings are not removed immediately. Protests are necessary to deter others from trying something similar again in future."
The Confederation of All India Traders has written a letter to the Minister for Consumer Affairs Ram Vilas Paswan and called this tactic a "clear irresponsible and immature attempt to boost sales by putting all our cultural value system at stake". The letter has been signed by National Secretary General of CAIT Praveen Khandelwal and acuses Sunny Leone of being irresponsible and of going to "any level irrespective of pious and religious occasion of Navratri" to earn money.
The advertisement has now gone viral over social media and Twitterati cannot keep calm over the same.
Manforce specially advertises its Condoms in Navratri, thus promoting Navratri a festival of Free Sex instead of worshiping women's strength pic.twitter.com/q2tL8rnwtF

— Rajesh Chanasana (@TheRajeshjk9) September 18, 2017
Hhahaa this is funnily harsh truth
Its proven fact that abortions in gujarat suddenly increase after #Navratri #manforce is only cashingit https://t.co/J7T44Hyy22

— Netra Daoo (@onlyonenetra) September 18, 2017
Manforce Condoms actually trying to cash in on Navratri, they have equated Dandiya playing with sex. Wonderful. pic.twitter.com/sby8xaq3Cd

— Mitra Joshi (@mitrajo) September 19, 2017
Sunny Leone condom ad for Navratri in Guj. How Hindus have allowed their festivals to celebrate the divine to degrade to gutter mentality😏⬇️ pic.twitter.com/3lepb8UilR

— dehydratedpaani (@dehydratedpaani) September 19, 2017