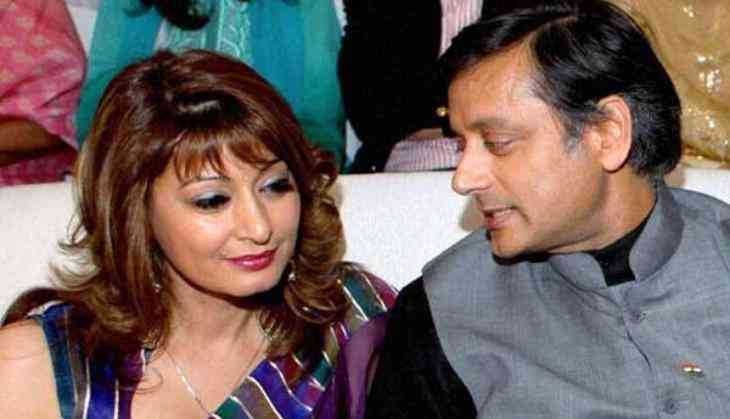 The Congress leader Shashi Tharoor charged in wife Sunanda Pushkar death case in Delhi's Patiala House court had received an email from Sunanda Pushkar that she had "lost her will to live" before she died, the Delhi police said in court, after submitting a 3000-page chargesheet that accuses him of abetting her suicide. The cops say Sunanda Pushkar's mail and messages on social media have been taken as a "dying declaration", the police told the court.
"I have no desire to live...all I pray for is death," Sunanda Pushkar wrote in the email to her husband on January 8, nine days before she was found dead in her suite at a luxury hotel in Delhi. The Delhi cops told the Patiala court that 27 tablets of Alprax were found in her room and it is not clear how many she had. Her death was due to poisoning, the court was told.
Sunanda Pushkar death case: Delhi's Patiala House Court sets June 5 for order on cognizance of chargesheet against Congress MP Shashi Tharoor

— ANI (@ANI) May 28, 2018
According to NDTV, the charge-sheet quotes a special investigation team as stating that Shashi Tharoor " as a husband ignored Sunanda when she was sliding or slipping into depression and she had Alprax." They had frequent fights, it says.
However, the entire charge sheet is yet to be made public. The Sunanda Pushkar case till now was being heard in a court that is meant to hear cases against parliamentarians and legislators, but now will be heard in a special court on Saturday. If the court admits the police charge of social media messages being avoided as part of dying declaration, it may be the first time such an instance is seen in a criminal investigation, reports NDTV.
Sunanda Pushkar death case: Prosecution quotes from the charges-sheet, explains why this case is of abetment to suicide and cruelty, says, "Her statements on social media can be treated as dying declaration. Sunanda's death is due to poisoning."

— ANI (@ANI) May 28, 2018
"He ignored her calls," the special team found in the case, and that Mr Tharoor used to disconnect her calls in the days before her death.
Sunanda Pushkar used social media to reach him, but those messages were also ignored, says the charge-sheet. "Though injury marks were not serious they are consistent with claims that the couple fought,"the charge-sheet says.
Earlier, Mr Tharoor charged with cruelty in his marriage. Sunanda Pushkar was found dead in a suite of a five-star hotel in south Delhi on January 17, 2014, days after she publicly accused her husband and Thiruvananthapuram Congress MP Shashi Tharoor of having an affair with a Pakistani journalist.
Also read: Sunanda Pushkar death case: Congress leader Shashi Tharoor charged by Delhi police in wife's death under Sections 306, 498A