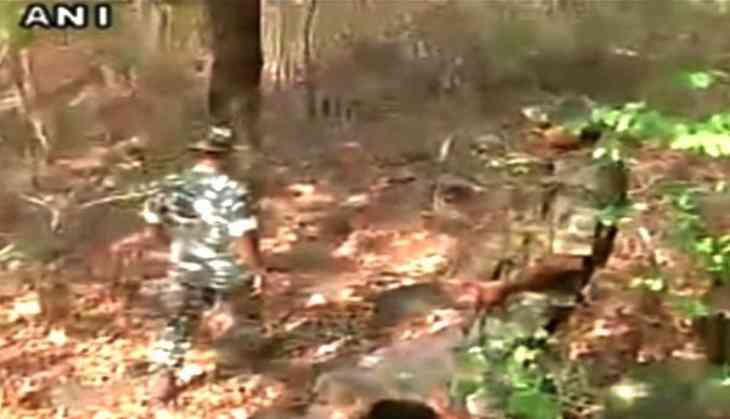 Hidma, the alleged mastermind of the Sukma Naxal attack, had reportedly sustained bullet injuries during the ' Operation Prahar' recently launched by the Chhattisgarh Police and the CRPF in Sukma district to flush out the Naxals hiding in forests of Tondamarka.
Superintendent of Police, Sukma, Abhishek Meena said that the villagers of Tondamarka verified that Hidma sustained bullet injuries. The extent of injuries, however, could not be verified.
Meena further said the villagers also disclosed that 10 bodies were taken from Tondamarka to Sakler area.
Over a dozen Naxals and three jawans were killed in anti-Naxal 'Operation Prahaar' in Chhattisgarh on June 23, Special Director General of Police D.M. Awasthi had confirmed.
The DG told ANI that approximately 1500 security personnel participated and launched a 56-hour long offensive against Naxals.
"Three District Reserve Guard jawans have been killed and five suffered injuries. Over one dozen Naxals were killed and eight to ten were injured. It was a 56-hour long operation. Approximately 1500 security personnel participated in this joint operation which ended today," said Awasthi.
He said that it was first of its kind initiative wherein the firing lasted approximately for 12 hours.
A composite squad of the STF, District Reserve Group (DRG), Central Reserve Police Force (CRPF) and its elite unit-CoBRA (Commando Battalion for Resolute Action) began the operation based on inputs about the location of Maoist hideouts in the interiors of Chintagufa, around 500 km from Bastar, on June 23.
The anti-naxal operation has been a befitting reply to the Sukma attack in which 26 CPRF personnel were killed in an encounter with Naxals in April this year.
-ANI