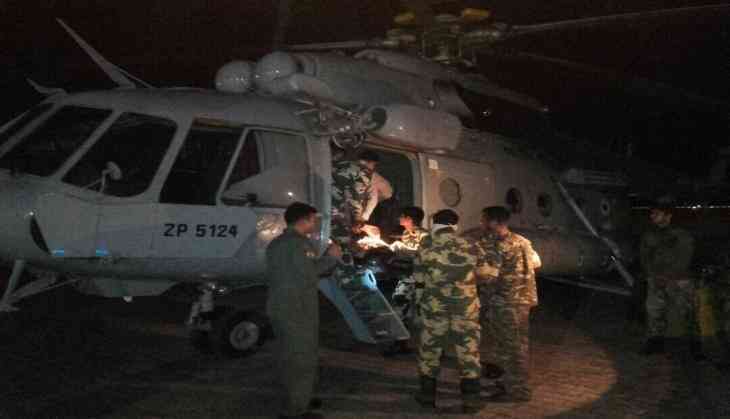 As many as 25 Central Reserve Police Force (CRPF) personnel were killed in the encounter with Naxals that took place in Chhattisgarh's Sukma.
Officials say the attack was organised by the military battalion of Naxals Company No. 1.
"The 74th CRPF Battalion was on a Road Opening Party (ROP) duty to guard the road and an under-construction bridge when the ambush took place," CRPF Deputy Inspector General (DIG) D.P. Upadhyay said.
As many as 90 CRPF jawans were a part of the ROP when they were attacked by the Naxals.
"Few villagers and their houses were used as a shield by the Naxals to attack the CRPF personnel," he added.
"They launched the attack from all three sides. The retaliatory fire went on for about one to two hours in which at least three of the nazalites and 25 of our CRPF jawans were killed, and six got injured."
"But I would want to add that their sacrifice will not go waste and we will teach them a lesson."
"The body of Hawaldaar M. Padmanabhan, who was thought to be missing, was recovered later," Vivekanand Sinha, IG, Bastar said.
"It was a U-shaped ambush. And out of the 700-750 maoists who attacked, many were women," he added.
Meanwhile, earlier in the day, Union Home Minister Rajnath Singh said the government had taken as a challenge the killing of CRPF personnel and vowed that no one will be spared.
He said that the Centre and state government would work together to ensure that the perpetrators were brought to book.
Singh, who paid homage to the jawans during a wreath laying ceremony along with his deputy Hansraj Ahir and Chief Minister Raman Singh, said this cowardly and unfortunate act exposed desperation and frustration.
"It is a cold blooded murder by the extremists. The Centre and state governments will work together and take action in this regard," Rajnath told a joint press briefing with the Chief Minister here.
The Chhattisgarh Chief Minister has called for concrete strategy to counter such attacks, while expressing grief over the death of jawans.
"It's high time when we need to adopt some strategies to counter such attacks in future. I offer my condolence to the families of deceased jawans," Raman said.
The Home Minister also briefed Prime Minister Narendra Modi on the attack last night.
-ANI