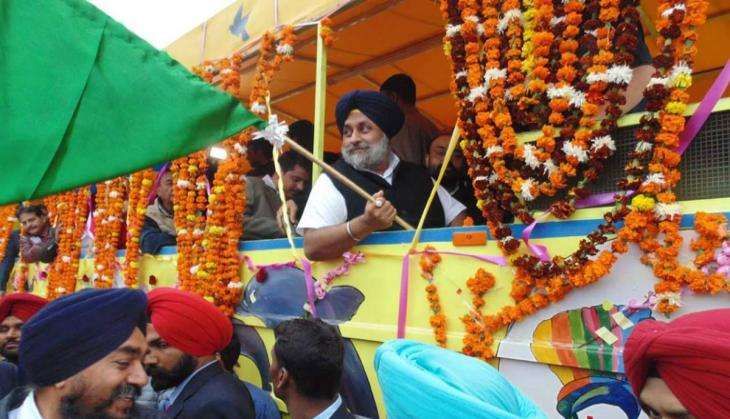 Punjab Deputy Chief Minister Sukhbir Singh Badal on Monday launched the first amphibious bus of the state at Harike Pattan Lake in Ferozepur.
After the launch, he took a ride on the bus to the confluence of the Sutlej and Beas rivers.
Inviting his political rivals to experience the natural beauty of the lake through the service, Sukhbir said he accomplished whatever he had promised during his tenure and now parties like the Congress and AAP had been left with no face to show to the people.
He announced that an amphibious bus ride will be also be launched in Bathinda.
Booking for rides can be done from tourism department offices at Harike Pattan and Amritsar, or online, he said.
"If we form the government for the third time, promises of concreting streets and drains, and installing solar lights in villages along with providing homes to the rural homeless will be completed," he said.
Meanwhile, reacting to the launch, AAP termed the amphibious bus ride as an "unrealistic and useless" idea.
"The decision of a water cruise is nothing more than implementing something in a haste," AAP state convener Gurpreet Singh Waraich said in a statement.
He said the bus poses "environmental hazards" and will disturb the stay of Siberian birds that flock to the Harike wetland during winter.
Meanwhile in Amritsar, Sukhbir said the holy city will be developed as a hub of religious fervour and tourism of North India.
"In the coming five years all the connecting roads to Sri Harmandir Sahib would be given a heritage look," he assured after launching the 'Hop-On-Hop-Off' double-decker bus for tourists.
Badal added that the double-decker bus will take tourists to 16 spots throughout the city and with a single ticket they can use the service for the entire day.
Three buses have been made operational and soon it will be increased to six, he added
--PTI