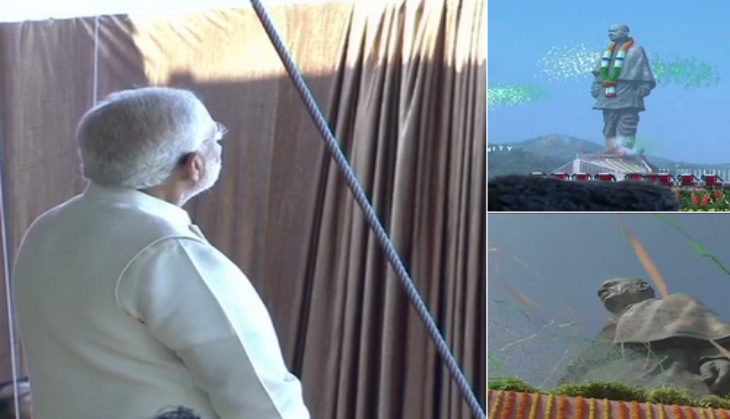 Prime Minister Narendra Modi unveil Sardar Vallabhbhai Patel's statue of unity in Gujarat on the occasion of the 143rd birth anniversary and gave tribute to the freedom movement icon, an 'Iron Man'.
"Events like today are very very important in a country's history and such events are difficult to erase. It is a historic and inspiring occasion for all Indians. I am fortunate to dedicate this statue of Sardar Sahab to the nation," said PM Modi on the occation of Sardar Patel statue inaugration.
"This is a project that we had thought about during the time when I was the Chief Minister of Gujarat. To build the Statue Of Unity, lakhs of farmers from all over India came together, gave their tools, portions of soil and thus, a mass movement started," PM Modi added.
#WATCH: Sardar Vallabhbhai Patel's #StatueOfUnity inaugurated by Prime Minister Narendra Modi in Gujarat's Kevadiya pic.twitter.com/APnxyFACFT

— ANI (@ANI) October 31, 2018
Statue of Unity is the tallest statue in the world as its 182 metres high. However, Sardar Vallabhbhai Patel's statue has been named as the 'Statue of Unity'.
As per the reports, the Statue of Unity, is twice as tall as the Statue of Liberty, which is 93 metres high. The Sardar Vallabhbhai Patel's statue has been built at a cost of Rs 2,389 crore and it is located 3.2 km downstream of the Narmada dam in Gujarat, PM Modi hometown.