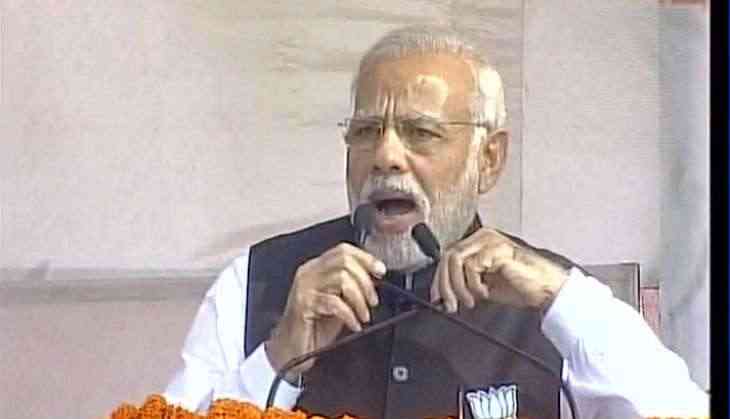 Taking a swipe at the Samajwadi Party Government in the state, Prime Minister Narendra Modi on Wednesday said the people of Uttar Pradesh doesn't support the SP-Congress alliance, adding that the alliance would shatter the dreams of the people.
"The public did not support the alliance of Samajwadi Party and Congress. Did you see what happened in Uttar Pradesh? The BJP won the MLC elections; this shows Uttar Pradesh didn't like their 'saath'. SP-Congress alliance will shatter the dreams of the people," said Prime Minister Modi while addressing a rally.
"I want to ask how Akhilesh forgot the attack carried out on Mulayam Yadav by Congress in 1984. It is shameful to befriend those who tried to murder one's father. Has the Indian politics stooped down to this level?" he asked.
The Prime Minister further said that the Uttar Pradesh Chief Minister is not that experienced and hence failed to understand the cleverness of the Congress Party.
Prime Minister Modi even accused the Samajwadi Party Government for not paying heed to the grievances of the poor and said that instead of working for the benefit of all, the latter only supports people from their own clans.
"The Samajwadi Party never showed interest in making a list of people below poverty line so that we can sanction them money for their basic requirements. The state government is such a deep sleep, that they are not even spending the money allocated for feeding the poor in orphanage," he said.
Further taking a jibe at the opposition in the state, he said the Samajwadi Party, Bahujan Samaj Party and Congress are favouring each other in some way or the other in the elections.
"Though UP means "up", nothing here is going UP. Development is going down, women security is going down, farmer well-being and employment is also down, road conditions are down," he added.
Taking a dig at Mulayam Singh Yadav's son Prateek Yadav, the Prime Minister said, "I don't own a single car but these people who call themselves socialists, have many expensive cars."
Prime Minister Modi further said that the BJP Government which is committed to work for the welfare of poor would ensure that their loan is waived off once it comes to power.
-ANI