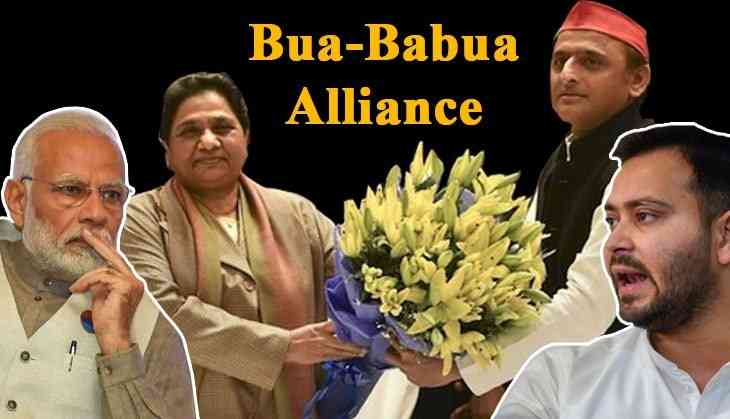 Ahead of 2019 Lok Sabha elections, forgetting all the sour memories, Bahujan Samaj Party chief Mayawati and Samajwadi party chief Akhilesh Yadav have officially announced their alliance for the upcoming polls. "We(BSP-SP) have decided to contest upcoming Lok Sabha elections together, this will lead to a new political revolution in the country," BSP Chief Mayawati has stated in the press conference.
"BSP will contest on 38 seats, SP on 38 out of 80 Lok Sabha seats. Two Lok Sabha seats we have left for other parties and Amethi and Rae Bareli have been left for Congress," said Mayawati
Reacting to the 'Bua-Bhatija' alliance RJD leader Tejashwi Yadav has warned BJP of their debacle in 2019 polls. "BJP ke haar ki shuruwaat Uttar Pradesh aur Bihar se ho chuki hai," Yadav said news agency ANI.
RJD's Tejashwi Yadav on #SPBSPalliance: BJP ke haar ki shuruwaat Uttar Pradesh aur Bihar se ho chuki hai. pic.twitter.com/NKOekftxKu

— ANI (@ANI) January 12, 2019
Although, the Congress party has been left out from the alliance and attacking BJP, Mayawati, while addressing media said that "Ye Pradhanmantri Modi ji ki or BJP ke national president Amit Shah, in dono Guru-chele ki neend udane wali press conference hai."
The BSP in its official statement has said on the BJP that "Be it BJP or Congress, whoever rules, their policies are mostly the same. For example, we are seeing how both indulged in corruption in defence deals. Congress imposed declared emergency, today there is undeclared emergency."
Also read: Lok Sabha 2019: Mayawati, Akhilesh announces alliance for 2019 polls, to contest on 38 seats each; Congress left out