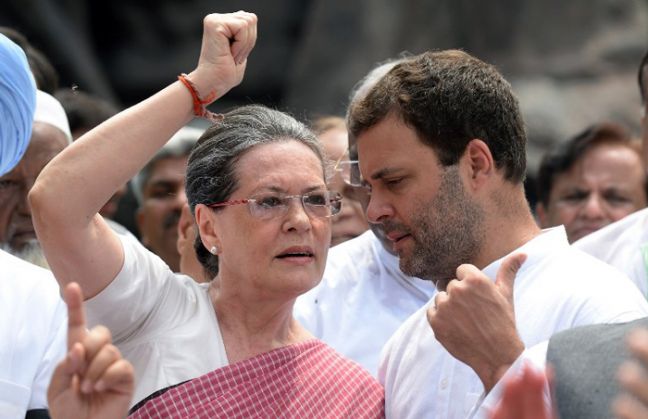 The Delhi High Court today quashed the pleas of Congress president Sonia Gandhi and vice-president Rahul Gandhi challenging the summons issued to them, in the National Herald daily case.
The court has reserved its verdict on the pleas, and now the Gandhis will have to appear before the trial court.
Justice Sunil Gaur while reserving the order observed that the Congress party could have written off the loan of Rs 90.25 crore owed to it by the publishers of National Herald, instead of assigning it to a charitable company in which some of its leaders are directors.
The case came to light after Subramanian Swamy alleged that National Herald's property worth Rs 2,000 crore was grabbed by the Gandhis using fraudulent papers.
What is the National Herald case?
The National Herald newspaper was established in 1938 by India's first Prime Minister Jawaharlal Nehru. The newspaper was shut down in 2008.
The Associated Journal Ltd, the company which published the National Herald, was taken over by a newly-floated company, Young Indian, in 2010.
Subramanian Swamy had accused both Sonia and Rahul of owning 38 percent shares each in Young Indian.
Swamy had also accused Rahul Gandhi of not disclosing his ownership in the affidavit he filed in the 2014 Lok Sabha elections from Amethi parliamentary constituency.
According to Swamy, Young Indian had acquired National Herald using Rs 90 crore of interest-free money, which it had received from the Congress party.
Swamy had claimed that as the Congress is a political party, it was illegal on their part to have given an interest free Rs 90 crore loan to Young Indian. He had stated that under the Income Tax act, no political party can indulge in such financial transactions and cannot sign any business contract with a third party.
Young Indian had rented out the Delhi-based National Herald House to the Passport Office on a monthly rent of Rs 30 Lakh. According to Swamy, 76 per cent of this amount goes to Sonia and Rahul Gandhi.
The complainant had established a prima facie case against the accused under section 403 (dishonest misappropriation of property), 406 (criminal breach of trust) and 420 (cheating) read with section 120B (criminal conspiracy) of the IPC.