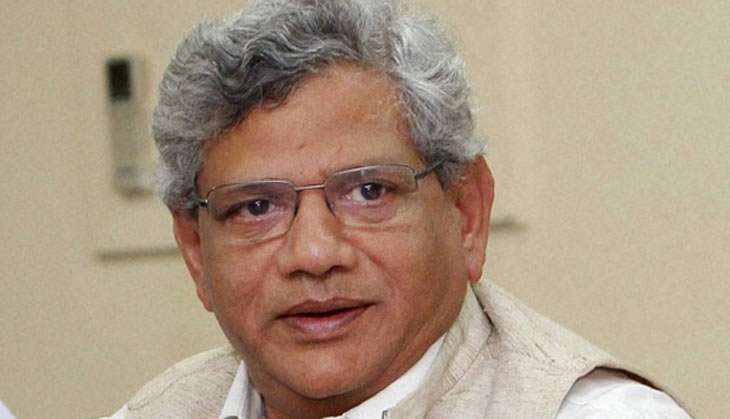 The CPI(M) today said the government should invite Hurriyat Conference for talks with the all-party delegation and announce confidence building measure during its visit to Kashmir.
CPI(M) general secretary Sitaram Yechury said, "Government should invite Hurriyat for talks with the all-party delegation when it visits Kashmir from tomorrow."
He also suggested that confidence-building measures should be announced during the delegation's visit.
Also read: All-party meet will send positive message in Kashmir, says defence expert Qamar Agha
An interactive session to brief MPs who will be part of the 30-member all-party delegation was held today to make them aware of the prevailing situation in Jammu and Kashmir and contours of the tour during which they will hold talks with a cross-section of people.
The prevailing ground situation in Jammu and Kashmir and positions and views of different stake holders, individuals and groups were conveyed to the parliamentarians.
The exercise was undertaken to ensure that all MPs speak in tandem and there is consensus among the lawmakers while speaking to a cross-section of people, aiming to bring peace in the state, sources said.
Also read: Ghulam Nabi Azad meets party leaders over Kashmir unrest
The CPI(M) and CPI will also hold consultations with civil society members and intellectuals to seek their views over the issue today.
"We should address the trust deficit among people of Kashmir and, therefore, we should meet all the stakeholders without any pre-condition and hear them and then try to find solution," Yechury had said on 2 September.
The delegation, to be led by Union Home Minister Rajnath Singh, will visit the Valley on 4-5 September.
During the visit, it will hold discussions with Jammu and Kashmir Governor NN Vohra, Chief Minister Mehbooba Mufti and representatives of all political parties in the state.
The source said the members of the delegation are free to meet anyone, including separatists.
However, Home Minister Rajnath Singh or any other central minister will meet only those who are ready to resolve all issues within the framework of the Constitution. The Kashmir Valley has seen possibly the longest spell of protests for over 50 days in which 70 people have lost their lives so far.
-PTI