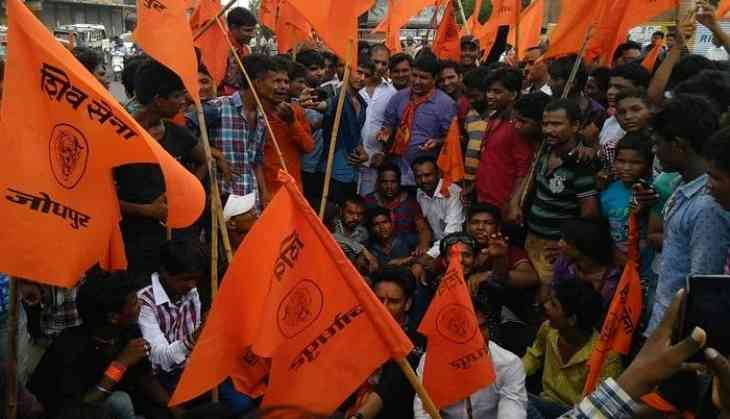 The Bharatiya Janata Party (BJP) on 13 May came down heavily on the Shiv Sena after its MLA made headlines for sending his 'proxy' to meet farmers of a drought-hit village.

Madhav Bhandari, BJP spokesperson told ANI, "Shiv Sena has been playing the so called sentimental farmers' card to execute filthy politics in Maharashtra. A corporator impersonating as the party MLA is just a minor yet huge evidence of it. They literally have a non- serious attitude towards the farmers' plight."

Further tearing into the Shiv Sena, Bhandari said that the development was proof of how the party functioned in its core.

"This is nothing new. It is their old age style of operating and functioning. Their ideology has a consolidated focus on aggressively protesting and demonstrating. Such bogus meetings only exhibit the weak fundamentals of the party. Besides, I do not blame the MLA who sent his proxy to the meeting or the corporator who went and executed himself as their chosen MLA, but I would like to blame it all on the party who have been indulging in the dirty politics as the whole," added Bhandari.

Shiv Sena, party chief Uddhav Thackeray in a meeting had directed party MLAs to visit drought-hit areas in their constituencies and meet the farmers under Marthawada tour.

Gautam Chabukswar, the Shiv Sena MLA from Pimrpi-Chinchwad, was on private tour to north India and had skipped the tour of Osmanabad.

Chabuskwar was assigned the responsibility of Osmnabad tehsil by the party chief Uddhav Thackeray. However, he sent Phanase as the MLA to meet the farmers during the tour.

Out of 40 Shiv Sena MLAs directed by Thackeray to visit the drought-hit district, as many as 27 did not bother to go on the tour.

Following the incident, senior Sena leaders termed it as "one person's mistake" and not as an embarrassment for the party.
-ANI