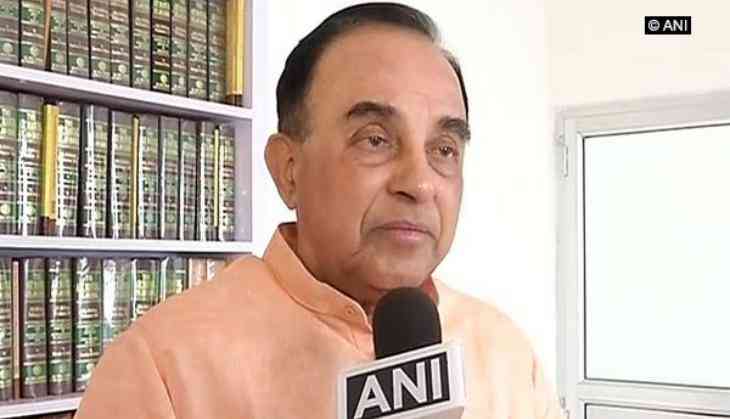 Bharatiya Janata Party (BJP) leader Subramanian Swamy on Tuesday said that Shia Waqf Board's affidavit in the Supreme Court about Ram Temple in Ayodhya is "god sent".
The Shia Waqf Board earlier today told the Supreme Court that mosque can be built near the birth place of Lord Ram (Ram Janmabhoomi) in Ayodhya.
While averring that the Shia's have always vouched for peace in the matter, Swamy said that Shia's affidavit is god sent which will give his case a positive push.
"That has been the original Shia stand; I have been to Iran also. I have checked up there and the Iranians are also of the view that we don't need to fight over the issue," said Swamy.
"The mosque belonged to the Shias. This notice has boosted my confidence. The probability of constructing a ram temple has increased. This intervention of Shia's has been in my opinion is god sent," he added.
In a major development, the Shia Waqf Board filed an affidavit before the apex court in which it stated that a mosque can be constructed at a place near birth place of Lord Ram.
"Since, the Babri Masjid was a Shia Waqf, we are alone entitled to negotiate and arrive at peaceful settlement with other stakeholders," Shia Waqf Board said in its statement.
Ram Janmabhoomi-Babri dispute is very old issue between Hindus and Muslims.
The Hindus claim that it is the birthplace of Lord Rama where a mosque was built in 1528-29 CE (935 AH) by Mir Baqi. Since the mosque was built on orders of the Mughal emperor Babur, it was named Babri Masjid.
The mosque was demolished by Hindu Karsevaks on December 6, 1992 in Ayodhya. The country witnessed massive riots in which over 2000 people were killed.
The first documented violence over the disputed site was reported in 1853 when the Nirmohi Akhara had forcefully occupied the Babri Masjid saying it was Ram Janmabhoomi. The communal riots had broken out after that which lasted for almost two years.
In the year 1961, the Sunni Central Waqf Board also filed a lawsuit, demanding possession of the site and removal of idols from the mosque premises, which were placed in 1949.
-ANI