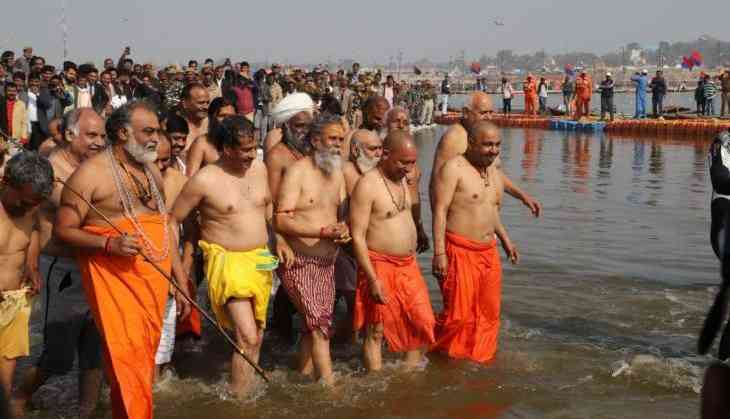 Uttar Pradesh Chief Minister Yogi Adityanath and his Cabinet took a holy dip in the Sangam at Prayagraj on Tuesday. Hours after CM's holy dip Congress leader Shashi Tharoor launch a scathing attack at the group. Taking jibe at CM Yogi Adityanath and his group Tharoor said 'everyone is naked' at the Sangam'.
Thiruvananthapuram Congress MP took Twitter and said this is the place for cleansing 'sins.'
"Ganga bhi swachh rakhni hain, aur paap bhi yahi dhone hain. Iss Sangam mein sab nange hain. Jai Ganga Maiya ki!" he said in a tweet.
गंगा भी स्वच्छ रखनी है और पाप भी यहीं धोने हैं। इस संगम में सब नंगे हैं!
जय गंगा मैया की! pic.twitter.com/qAmHThAJjD

— Shashi Tharoor (@ShashiTharoor) January 29, 2019
Tharoor's attack on ruling BJP and its minister has irked a fresh controversy. His comment is also being viewed on the backdrop of speculations that newly appointed Congress general secretary Priyanka Gandhi would kick off her political rallies after taking a dip in the Sangam at Prayagraj Kumbh Mela.
Responding to Tharoor's jibe UP Minister SN Singh says how he will understand Kumbh's importance and asked him to take a dip to repent sins.
"How will he understand the importance of Kumbh? The atmosphere he's in, the culture he has been brought up in, don't understand this. You people have committed a lot of misdeeds, take a holy dip in Kumbh &you might be able to repent for your sins," said SN Singh.
Also read: Gujarat's Education Minister wishes thanks to rapist Asaram Bapu's Ashram for new Valentine's Day 'plan'