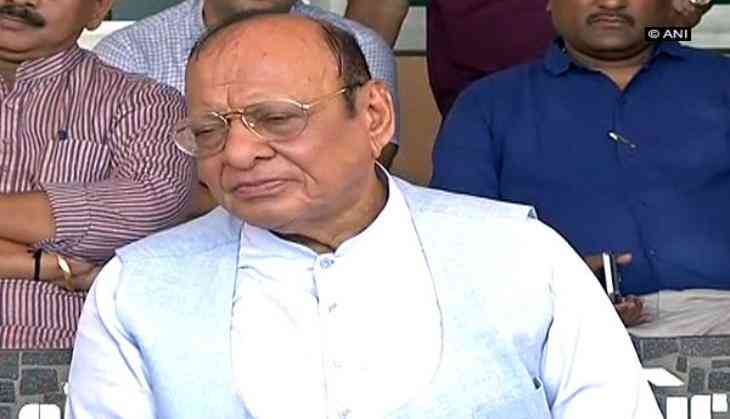 Former Congress leader Shankersinh Vaghela on Thursday alleged the Congress for plotting a conspiracy to lend the votes of two Congress MLAs in the Rajya Sabha elections invalid and further said that the Election Commission (EC) should not have interfered in the matter.
"It was a conspiracy by the Congress. They had planned everything well in advance. The EC had no role in this. They should not have interfered. The Returning Officer had the right to decide," Vaghela said, while addressing a press conference.
He further said that he had already warned Congress leader Ashok Gehlot that he wouldn't vote for Ahmed Patel till he apologises for this comment.
" Ashok Gehlot said that I was acting under the CBI pressure. I told him that I won't vote for Ahmed Patel till he apologises for this comment," he said.
Gehlot had earlier said that Vaghela's decision to quit the Congress Party was a "blunder."
Gehlot had blamed Bharatiya Janata Party (BJP) president Amit Shah and Prime Minister Narendra Modi for pressurising Vaghela into quitting the Congress. He said there were reports that the ED and the CBI had searched his premises and under that pressure, he tried to damage the Congress.
Meanwhile, Vaghela congratulated senior Congress leader Ahmed Patel, who retained his Rajya Sabha seat from Gujarat on Tuesday.
Earlier, on the day of voting, the Congress had complained to the EC, saying that two of its MLAs showed their votes to unauthorised persons and demanded their votes should not be counted and should be rejected.
These MLAs - Bhola Bhai Gohil and Raghav Bhai Patel - allegedly showed their votes to Bharatiya Janata Party (BJP) national president Amit Shah and Union Information and Broadcasting Minister Smriti Irani.
The votes were declared invalid, thereafter.
-ANI